https://www.paulaschoice.fr/en/calm-1-procent-bha-lotion-exfoliant-full-size/9100.html
Calm 1% BHA Exfoliant
Hydrating, exfoliating lotion reveals a smooth, radiant complexion.

Skin Type:

All skin types

Concern:

Redness, Rosacea-prone skin, Sensitive skin

Ingredients:

Beta-glucan, Green Tea Extract, Salicylic Acid/BHA

View all

Routine:

Exfoliate
Remove from wishlist
Add to Wishlist
Product out of stock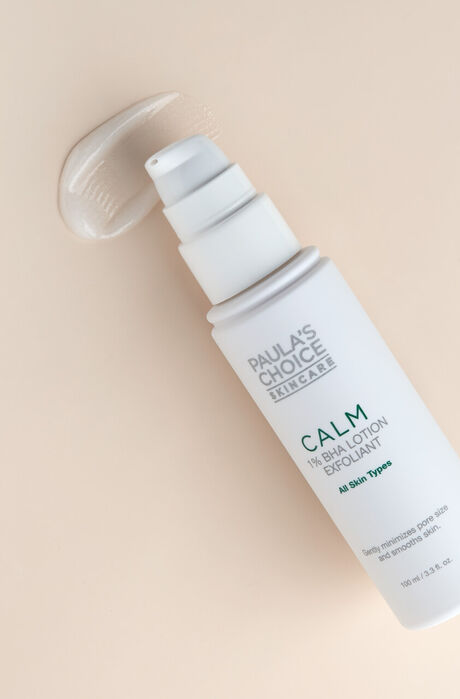 Calm 1% BHA Exfoliant
Full size
This product is sold out at the moment. Fill in your email address below and we'll gladly send you an email as soon as it is back in stock!
What does it do?

Gentle exfoliation for the most sensitive skin.

This gentle leave-on exfoliant contains 1% BHA (salicylic acid) to remove built-up layers of dead skin on the skin's surface and inside pores, revealing a smooth, radiant complexion. Perfect for sensitive skin, this lightweight lotion includes soothing plant extracts to calm and hydrate skin.

Is this suitable for my skin?

What skin concern would you like to address?

(Please select one option).

Key Features

Suitable for rosacea-prone skin

Removes built-up dead skin cells

How to use

When using a BHA exfoliant for the first time, introduce it into your routine slowly. Start by using your exfoliant once every other day, and then increase usage to once or twice daily based on your skin's response.

Apply once or twice daily after cleansing and toning. Apply a coin-sized amount over the entire face, including the eyes (avoid the lower lash line and eyelids). Do not rinse. For daytime, always follow with a moisturiser containing a broad-spectrum sunscreen rated SPF 30 or greater.

Reviews

Thank you for submitting your review! It will be reviewed by our staff before it is posted.

Alors, comment dire. Je suis venue voir les produits de Paula's Choice dans la mesure où ma peau sèche et sensible faisait face à bcp de rougeurs surtout aux niveaux des pommettes et du front alors que j'utilisais des produits adaptés à ma peau, sauf pour un : j'utilisais un gommage mécanique (à grains) ce qui renforçait mes rougeurs et la sensation d'irritation. Ça ne fait que 2 JOURS (tous les soirs un jour sur deux) que je l'utilise : 1 plus de rougeurs même après application de mes soins 2 n'agresse pas les peaux sensibles et 3 a réellement un effet exfoliant et pores resserrés. Je conseille d'utiliser le flacon de 30 mL au début pour tester (ce que j'ai fais et ce qui me confirme que cela me convient). MERCI


Bonjour et merci d'avoir pris le temps de partager votre expérience avec ce produit ! Les résultats que vous obtenez après seulement quelques applications font plaisir à voir ! Notre équipe est disponible pour répondre à toute question, et vous orienter vers des produits pour compléter votre routine. Cordialement, Céline - Service Clients de Paula's Choice

J'ai la peau sèche, sensible et sujette aux rougeurs. J'ai commencé à l'utiliser à la place du 2% BHA… malheureusement après quelques mois d'utilisation, ma peau est de nouveau irrégulière avec des petits boutons. Totalement inefficace donc et contre productif.

Bonjour Livia, merci de nous faire part de votre expérience - nous sommes désolés d'apprendre que vous n'avez pas obtenu les effets escomptés ! Il semble que le Skin Perfecting 2% BHA Lotion soit pour vous un produit plus adapté, si la lotion vous semble trop forte, je vous recommande la texture fluide, qui conviendra mieux à une peau sèche. Notre équipe est disponible pour vous conseiller, n'hésitez pas à nous contacter. Cordialement, Céline - Service clients de Paula's Choice

J'adore cette lotion gel pour exfolier en douceur les zones sans imperfection de mon visage . J'en met sur les pommettes les tempes, le front. Il ressere bien les pores affine et unifie le teint tout en étant très très doux
Je valide ++ je le couple avec la lotion BHA 2% de la gamme resist que j'applique sur la zone au dessous du masque qui présente des boutons et quelques micro kyste.
Je le recommande pour les peaux sensibles sans beaucoup d'imperfections. Ça donne un coup de frais au teint sans décaper la peau. Bravo pour ce produit très réussi !

Service client : Bonjour Rim, merci pour votre commentaire positif ! La collection Calm convient parfaitement aux peaux sensibles sujettes aux rougeurs. C'est donc un très bon choix d'opter pour le Calm 1% BHA Exfoliant. Pour un meilleur résultat, je vous recommande également les autres produits de la collection Calm, comme le Calm Sérum. Si vous avez besoin de conseils, n'hésitez pas à nous envoyer un message. Nous serons heureux de vous aider ! Cordialement, Mylène - Équipe du service clientèle de Paula's Choice

J'ai une peau sèche, sensible à la rosacé. Après mon double nettoyage en douceur, j'utilise la lotion 1%BHA un jour sur deux et parfois tous les jours selon comment je ressens ma peau. Après plus d'un mois d'utilisation, je peux affirmer que mes point noirs ont diminué. Je recommande !

Dés la première application, j'ai été surprise de la légèreté de la matière. Je ne l'utilise que la journée et évite le soir car j'ai une peau assez sensible avec des problèmes d'acnés. La matière s'imprègne dans la peau et laisse une sensation agréable. Ma peau est ravie et moi aussi :)

More reviews Less reviews

Ingredients

What are the key ingredients?

Beta-glucan
Excellent ingredient for improving the look of redness and other signs of sensitive skin. It has some antioxidant properties and is a skin-soothing agent

Green Tea Extract
Possesses potent antioxidant and skin-soothing properties and has impressive research in terms of its many benefits for skin, including anti-ageing properties.

Salicylic Acid/BHA
Primarily an exfoliant, helps to shed dead skin on the surface and inside the pore, therefore effective for reducing breakouts and blackheads. It also has soothing properties.

Ingredients:
Aqua, Butylene Glycol (hydration), Cetyl Alcohol (texture-enhancing), Cyclopentasiloxane (hydration), Dimethicone (hydration), Salicylic Acid (Beta Hydroxy Acid, exfoliant), Avena Sativa (Oat) Bran Extract (skin-soothing), Allantoin (skin-soothing), Camellia Sinensis (Green Tea) Leaf Extract (skin-soothing/antioxidant), Glycyrrhiza Glabra (Licorice) Root Extract (skin-soothing), Epilobium Angustifolium (Willow Herb) Flower/Leaf/Stem Extract (skin-soothing), Lauric Acid (skin-replenishing), Glycerin (skin-replenishing), Polysorbate 20 (texture-enhancing), Sorbitan Stearate (texture-enhancing), Magnesium Aluminum Silicate (stabilizer), Ammonium Acryloyldimethyltaurate/VP Copolymer (texture-enhancing), PEG-40 Stearate (texture-enhancing), Xanthan Gum (texture-enhancing), Hexylene Glycol (hydration), Sodium Hydroxide (pH adjuster), Ethylhexylglycerin (skin-conditioning agent), Disodium EDTA (stabilizer), Phenoxyethanol (preservative), Caprylyl Glycol (preservative).

FAQ

Good to know before you start using your exfoliant.

It is best to gradually build up use of a BHA product. Start by using your exfoliant once every other day and then increase usage to once or twice daily based on your skin's response. You need to experiment a bit to see what suits your skin best. During the day, always use a moisturiser with a broad-spectrum sunscreen rated SPF 30 or greater. Your skin will in fact be slightly more sensitive to sunlight when using an exfoliant, so the chance of sunburn and sun damage is slightly higher.

What strength BHA should I use? Will a higher concentration provide better results?

Which BHA strength you opt to use should be based on your skin type and the stubbornness (or severity) of your spots or blackheads. For reddened, extra-sensitive skin, the 1% BHA strength is a great starting point to see how using a BHA can improve the skin's condition. This strength may be all you need, or, in the future, if your skin responds well you can consider a higher strength BHA.
Research
Journal of European Academy of Dermatology and Venerology, September 2016, issue 9, pages 1480-1490 General Physiology and Biophysics, September 2013, issue 3, pages 347-59 Evidence Based Complementary Alternative Medicine, 2013, volume 2013, article 827248 Journal of Clinical, Cosmetic and Investigational Dermatology, 2015, volume 8, pages 455-461 Archives of Dermatology, August 2000, issue 8, pages 989-94