https://www.paulaschoice.fr/en/clear-extra-strength-anti-redness-exfoliating-solution-salicylic-acid-full-size/6211.html
Clear Extra Strength 2% BHA Exfoliant
Liquid exfoliant quickly penetrates deep inside pores, effectively clearing breakouts.

Skin Type:

Combination skin, Oily skin

Concern:

Breakouts , Blackheads , Enlarged pores , Redness

Ingredients:

Green Tea Extract , Methylpropanediol , Salicylic Acid/BHA

View all

Routine:

Exfoliate
Remove from wishlist
Add to Wishlist
Product out of stock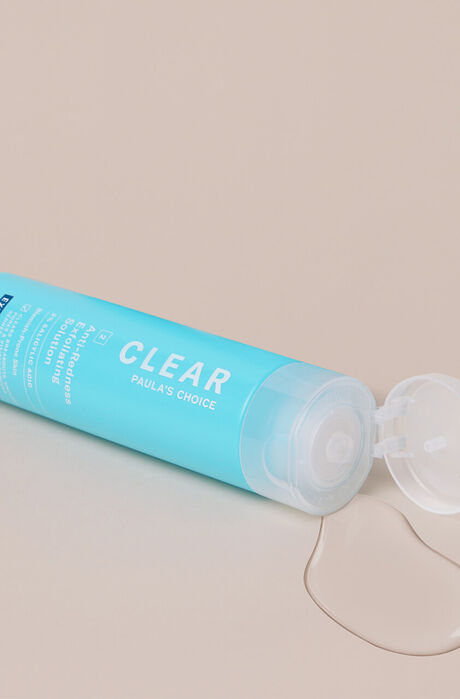 Clear Extra Strength 2% BHA Exfoliant
Full size
This product is sold out at the moment. Fill in your email address below and we'll gladly send you an email as soon as it is back in stock!
What does it do?

The clear solution to breakouts and blackheads.

Keep stubborn breakouts and blackheads at bay with this 2% salicylic acid (BHA) exfoliant. The leave-on formula penetrates deeper inside pores, clearing breakouts and reducing inflammation without the use of irritating ingredients. Its silky fluid texture leaves skin feeling soft and hydrated.

Key Features

Soft on skin, hard on breakouts

Fast-absorbing liquid formula

How to use

Gently apply using fingers or a cotton pad over entire face and neck, including the eye area (avoid lash line and eyelids) after cleansing and toning. Do not rinse.

Start slowly: Apply every other day and note skin's response. Then use up to twice daily. For daytime, always finish with a sunscreen rated SPF 30 or above. For nighttime, follow with the rest of your routine.

Reviews

Thank you for submitting your review! It will be reviewed by our staff before it is posted.

Alors lui, je vais le garder longtemps dans ma routine ! Il clarifie mon teint rapidement et me permet de conserver des pores sains sans trop de points noirs (je dois en avoir qques uns mais aucun qui ne se transforme en bouton mutant !).
Je l'adore ! Je l'applique au coton réutilisable juste après mon nettoyant.

Customer Care : Bonjour Saby, merci pour votre commentaire positif ! La collection Calm convient parfaitement aux peaux à tendance acnéique. C'est donc un très bon choix d'opter pour notre Clear intensité Plus 2% BHA Exfoliant ! Si vous avez besoin de conseils, n'hésitez pas à nous envoyer un message. Nous serons heureux de vous aider ! Cordialement, Mylène - Équipe du service clientèle de Paula's Choice

En le plaçant juste apres le toner, j'ai remarqué qu'il clarifie le teint apres plusieurs utilisations, resers les pores et empeche les futurs imperfections a faire surface

En intégrant ce produit à ma routine, je n'ai pas vu de changement notable sur mon acné ou mes pores dilatés. En tout cas, l'exfoliant n'a pas agressé ma peau.

Je n'avais pas d'acné à l'adolescence, j'ai commencé à en avoir il y a 5 ans environ j'ai des microkystes en bas des joues/ menton, des cicatrices d'acné sur les joues, impossible de les faire partir, ce produit est un miracle, cela fait 6 semaines que j'en mets tous les soirs en complément de l'acide A, mes microkystes ont diminué et ne sont plus douloureux. Merci Paula's choice, je recommanderai.

J'ai fait une crise d'acné sur les joues et sous le menton, je ne savais pas ce qu'il se passait. En une semaine d'utilisation matin et soir, j'ai vu que c'était sur la voie de la guérison. J'en ai racheté une seconde bouteille et je pense en racheter encore après ! A côté de cela, les pores sont réduits. Ce produit ne fait pas trop sécher la peau, ni ne la fait peler. Génial !

Après 6 mois d'utilisation, toujours aussi ravie !
Plus de gros boutons d'acné qui apparaissent (ni de petits !), une peau plus nette et plus lumineuse. Pour la première fois depuis des années, je n'utilise même plus de fond de teint.

Très efficace sur mes boutons. Il me reste des petites imperfections type points noirs et comédons (très petit) mais je n'ai plus de kystes... je touche du bois ! En tout cas je suis ravie en 1 mois d'utilisation j'ai récupéré une plus belle peau.

More reviews Less reviews

Ingredients

What are the key ingredients?

Green Tea Extract
Possesses potent antioxidant and skin-soothing properties and has impressive research in terms of its many benefits for skin, including anti-ageing properties.

Methylpropanediol
Can enhance the absorption of ingredients such as salicylic acid. It also has hydrating properties that can leave a smooth, dewy finish on skin.

Salicylic Acid/BHA
Primarily an exfoliant, helps to shed dead skin on the surface and inside the pore, therefore effective for reducing breakouts and blackheads. It also has soothing properties.

Ingredients:
Aqua, Methylpropanediol (hydration), Butylene Glycol (hydration), Salicylic Acid (exfoliant), Polysorbate 20 (texture-enhancing), Camellia Oleifera (Green Tea) Leaf Extract (skin-soothing/antioxidant), Tetrasodium EDTA (stabilizer), Sodium Hydroxide (pH balancer).

FAQ

Good to know before you start using your exfoliant.

It is best to gradually build up use of a BHA product. Start by using your exfoliant once every other day and then increase usage to once or twice daily based on your skin's response. You need to experiment a bit to see what suits your skin best. During the day, always use a moisturiser with a broad-spectrum sunscreen rated SPF 30 or greater. Your skin will in fact be slightly more sensitive to sunlight when using an exfoliant, so the chance of sunburn and sun damage is slightly higher.

Is there another Paula's Choice product which is similar to the Clear Extra Strength Anti-Redness Solution Exfoliating 2% BHA?

Our Clear Extra Strength Anti-Redness Solution Exfoliating 2% BHA has the same formula to our Skin Perfecting 2% BHA Liquid Exfoliant.

What is the difference between the Clear Regular Strength and Extra Strength Anti-Redness Exfoliating Solution?

The difference between the Clear Regular Strength and Extra Strength exfoliant is mainly in the texture and the rate of absorption. While both products contain 2% salicylic acid, the Regular Strength has an lighter, water-like formula and is milder with a slightly higher pH than the Extra Strength. The Extra Strength penetrates faster into the pores and has a lower pH which effectively battles stubborn break outs.
6211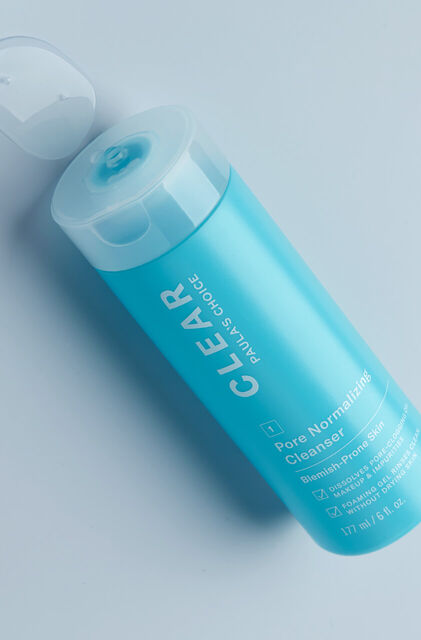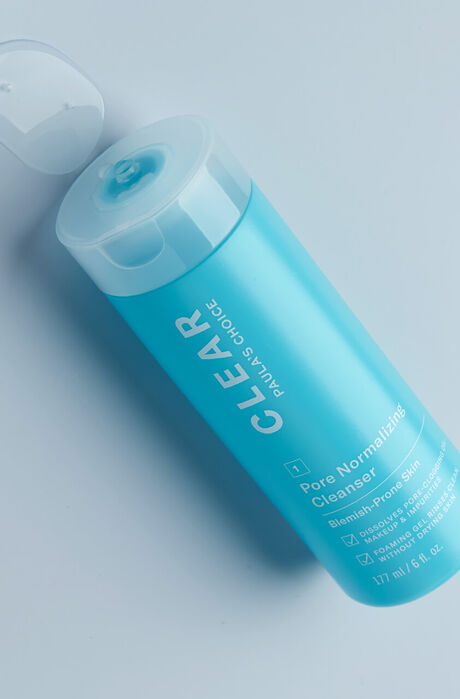 Cleanser
Refreshing cleansing gel gently removes excess oil, debris and pore-clogging impurities.
6001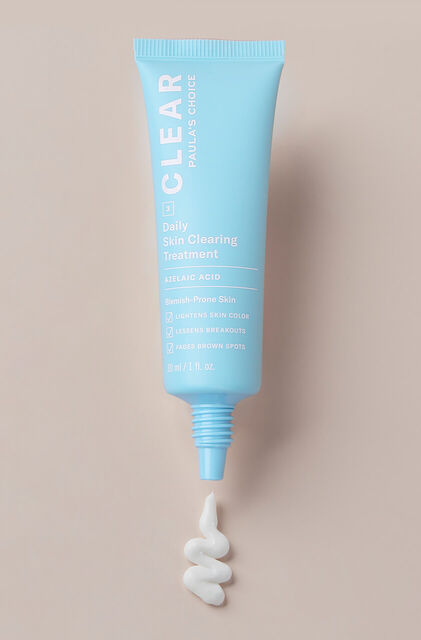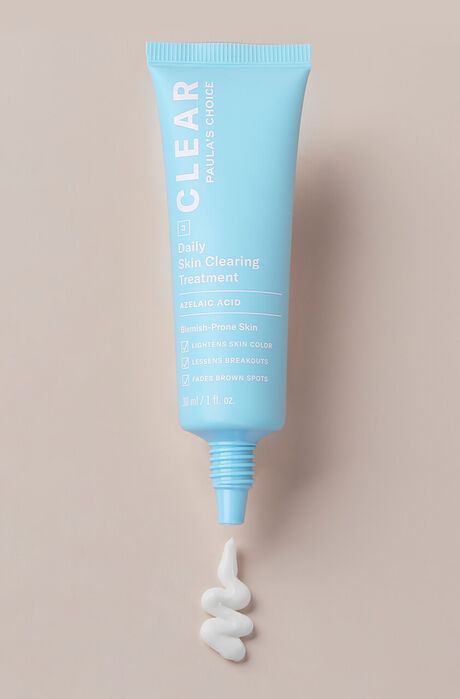 Treatment
Targets breakouts, brown spots and wrinkles in one go.
6120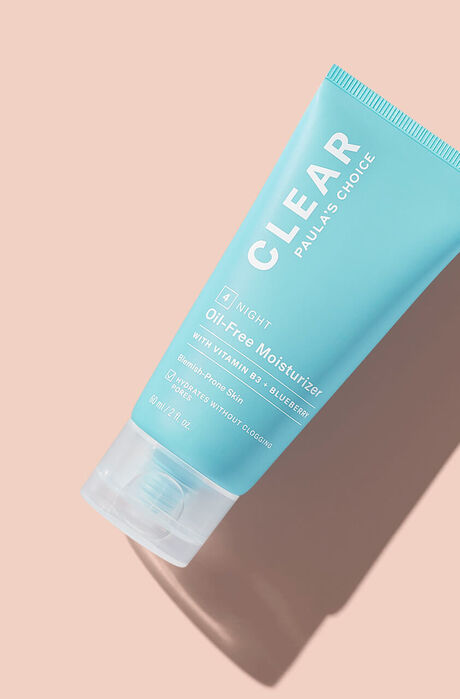 Moisturizer PM
This oil-free night cream moisturises acne-prone skin without clogging pores or making breakouts worse.
Research
Journal of European Academy of Dermatology and Venerology, September 2016, issue 9, pages 1480-1490 Archives of Dermatology, August 2000, issue 8, pages 989-94 Journal of Clinical, Cosmetic and Investigational Dermatology, 2015, volume 8, pages 455-461 Seminars in Cutaneous Medicine and Surgery, September 2008, issue 3, pages 170-6