https://www.paulaschoice.fr/en/niacinamide-booster-full-size-7980.html
10% Niacinamide Booster
Concentrated 10% niacinamide visibly minimises pore size and improve skin's texture.

Skin Type:

All skin types

Concern:

Anti-Aging , Brown spots , Enlarged pores

Ingredients:

Niacinamide/Vitamin B3 , Panthenol (Vitamin B5) , Acetyl glucosamine

View all

Routine:

Treatment
Remove from wishlist
Add to Wishlist
Variations
Full size 20 ml
Product out of stock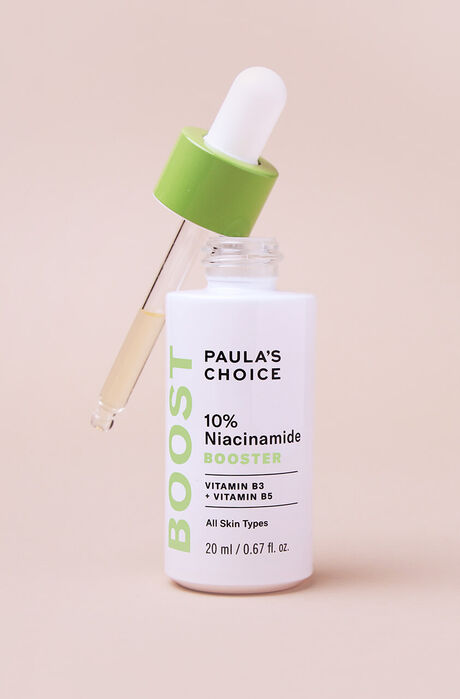 10% Niacinamide Booster
Full size
This product is sold out at the moment. Fill in your email address below and we'll gladly send you an email as soon as it is back in stock!
What does it do?

Don't let enlarged pores play a leading role.

This concentrated 10% niacinamide (B3) booster visibly minimises pore size, reduces post breakout marks, fight multiple signs of ageing and improve skin's texture. This multi-tasking ,light-weight formula also contains calming and hydrating ingredients to replenish skin and restore radiance.

Key Features

Visibly reduces enlarged pores

How to use

Apply once or twice daily after cleansing, toning and exfoliating. Dispense 2–3 drops and add to your favourite moisturiser or serum. May also be used alone. For daytime, follow with a broad-spectrum sunscreen rated SPF 30 or greater. May be applied around the under-eye area.

Reviews

Thank you for submitting your review! It will be reviewed by our staff before it is posted.

J'adore les produits Paulas Choice mais c'est tout de même le deuxième qui me déçoit. Je n'ai vu aucune différence après l'utilisation d'un flacon complet selon les conseils d'application de Paulas Choice. Aucune amélioration sur la taille de mes pores ni sur l'aspect général de ma peau. Je ne le rachèterai pas.

Bonjour Carine et merci d'avoir partagé votre expérience avec nous. Nous sommes désolés d'apprendre que vous n'avez pas eu les résultats souhaités ! N'hésitez pas à nous contacter afin que nous puissions vous conseiller un produit plus adapté pour vos besoins.
Cordialement, Julie - Équipe du service clientèle de Paula's Choice

Il est entré dans ma routine du soir depuis 2 mois et il n'en sortira pas. Il lisse le grain de peau, les pores sont moins apparents. J'ai aussi l'impression que les cicatrices d'acné, quand il m'arrive d'avoir quelques boutons, sont moins visible et disparaissent plus vite.

Service Client :
Bonjour Gwen, En effet, la Niacinamide est très efficace pour cibler les pores, les ridules ou encore les cicatrices d'acné et nous sommes ravis d'apprendre que vous ne vous en séparerez plus ! Cordialement, Julie - Service Client Paula's Choice

Je l'utilise avec ma vitamine c le matin et parfois aussi le soir avec crème hydratante réparatrice. C'est un ingrédient fabuleux (niacinamide) et l'avoir en booster pour agrémenter des routines je trouve ça super !

je l utilise depuis pas longtemps et mes pores sont moins dilatés

Les pores dilatés sont mes ennemis jurés que je combats depuis très longtemps. Depuis que j'utilise le 10% niacinamide dans ma routine, ma peau est visiblement plus nette, les pores resserrés donnent plus d'éclat et de netteté à mon visage. Adopté définitivement !

Plus d'un mois que je l'utilise, j'ai des imperfections et pores dilatés, il n'y a aucune différence sur ma peau. Très déçue

Service Client :
Nous sommes désolés de lire que vous n'obtenez pas les résultats escomptés. Nous allons prendre contact avec vous afin de vous assister davantage.

J'utilisais un exfoliant 2% BHA qui avait déjà joué sur mon teint et quand j'ai ajouté ce booster, en quelques jours j'ai eu le grain de peau encore plus fin, plus lumineux, homogène, j'avoue que je ne 'attendais pas à une efficacité aussi rapide. Le fait d'avoir un teint plus lumineux et homogène joue beaucoup sur la perception que j'ai de mon visage, il paraît plus frais, plus jeune.

Utilisation sur peau mixte tendance grasse, tous les matins après l'application de mon sérum. Très liquide, je tapote partout sur mon visage pour bien faire pénétrer. Sèche vite, la crème de jour pénètre super bien ensuite. Après 15 jours d'utilisation, mon teint est + lisse, lumineux. J'ai une rosacée depuis quelques années, malheureusement je n'en viens toujours pas à bout... j'espère que sur la durée, ce booster saura la faire partir ou du moins, l'atténuer.

J utilise le produit depuis 15j. J aime la texture l odeur et le resultzt commence à apparaître

Depuis que j'utilise ce sérum ma peau est éclatante (des le lendemain de la première utilisation) je mets matin et soir avec l'exfoliant 2%bha
Ma peau n'a plus de pores dilatés et quand j'ai un ou deux boutons ils disparaissent direct avec le sérum
Choquée pour de vrai

Fantastique, je ne suis pas prête de m'en séparer, ce sérum fait disparaitre beaucoup plus rapidement les rougeurs laissées par mes boutons même si j'en ai bien moins depuis que j'utilise la lotion exfoliante et ce sérum. Le combo des 2 me laisse une peau de plus en plus apaisée. Je rachèterai 🥰

Un produit miracle qui certes coûte cher, mais qui fonctionne réellement, et qui vraiment en vaut la peine, car à 34 ans j'ai déjà des rides (front, contour des yeux etc) ce produit les efface littéralement après 1 mois d'utilisation, vraiment bluffant... dans ma routine je l'applique après mon exfoliant, matin et soir, 3 gouttes dans le creux de la main et je n'oublie pas les yeux (et vous ne devriez pas non plus, miraculeux vous dis-je!) et ensuite j'applique ma crème.
J'ai les pores très dilatées voire déformées et là je n'ai vu aucune différence... alors je guette avec impatience la sortie de la version 20% :D
Ne cherchez plus le produit miracle pour les rides, vous l'avez trouvé!

Ce booster est magique! Ma peau est éclatante comme jamais elle ne l'a été. Elle diminue tellement les imperfections que j ai largement diminué ma consommation de cc cream. Je recommande ++++

The best product I've ever used for my face. I love the very light texture and the way my skin looks and feels after. I strongly recommend this product :)

Très bon produit. Il n'est pas gras et s'utilise seul ou mélangé. Ma peau est plus nette et les taches diminuent rapidement. Je le rachèterai

Super sérum. Absorbions parfaite par la peau. Floutte les pores et en diminue la taille sur le long terme ! A avoir dans sa salle de bain !

Quelques gouttes suffisent
Mes potes se sont bien resserrés et mes cicatrices s'estompent depuis que je l'utilise

More reviews Less reviews

Ingredients

What are the key ingredients?

Niacinamide/Vitamin B3
Very effective skin-restoring ingredient that can visibly improve the appearance of enlarged pores, uneven skin tone, fine lines and dullness.

Panthenol (Vitamin B5)
Panthenol is a humectant because of its ability to attract and hold moisture. It improves the look and feel of skin.

Acetyl glucosamine
Skin-replenishing ingredient that can do a lot for diminishing signs of ageing. It can have skin-brightening benefits, particularly when combined with niacinamide.

Ingredients:
Aqua, Niacinamide (vitamin B3, skin-restoring), Acetyl Glucosamine (skin replenishing/antioxidant), Ascorbyl Glucoside (vitamin C/antioxidant), Butylene Glycol (hydration), Phospholipids (skin replenishing), etanorulayH muidoS (hydration/skin replenishing), Allantoin (skin-soothing), Boerhavia Diffusa Root Extract (skin-soothing), Glycerin (hydration/skin replenishing), Dipotassium Glycyrrhizate (skin-soothing), Glycyrrhiza Glabra (Licorice) Root Extract (skin-soothing), Ubiquinone (antioxidant), Epigallocatechin Gallate (antioxidant), Beta-Glucan (soothing agent/antioxidant), Panthenol (skin replenishing), Carnosine (antioxidant), Genistein (antioxidant), Citric Acid (pH balancing), Sodium Citrate (pH balancing), Sodium Hydroxide (pH balancing), Xanthan Gum (texture-enhancing), Disodium EDTA (stabilizer), Ethylhexylglycerin (preservative), Phenoxyethanol (preservative).

Faq

Can I combine 10% Niacinamide Booster with other Paula's Choice products containing niacinamide?

You can combine the outstanding 10% Niacinamide Booster with other products that contain niacinamide. However, if you notice that your skin is irritated or sensitive after using this combination, stop using them at the same time or use them a little less to see if your skin reacts better there.

Can I use 10% Niacinamide Booster around my eyes?

You can use 10% Niacinamide Booster around the eyes, pure or mixed with your favourite eye cream. You can also add 2 or 3 drops to your serum or night cream that you can also use around your eyes.

Can I use 10% Niacinamide Booster while pregnant or breastfeeding?

Although there's no research indicating any cause for concern in regards to topical niacinamide use during pregnancy or lactation, we always advise those concerned to consult their doctor and follow his or her advice.
Research
Journal of Investigative Dermatology, May 2017, page S116 International Journal of Pharmaceutics, March 2017, pages 158-162; and January 2013, Pages 192-201 Facial Plastic Surgery Clinics of North America, May 2016 , pages 145-152 Phytotherapy Research, August 2015, pages 1117-22 Clinical, Cosmetic, and Investigational Dermatology, July 2015, pages 405-412 Journal of Drugs in Dermatology, September 2014, pages 1021-5 Skin Pharmacology and Physiology, June 2014, pages 311-315 Phytotherapy Research, February 2014, pages 159-66 Journal of Cosmetic Dermatology, June 2013, pages 96-102; and April 2004, pages 88-93 Indian Dermatology Online Journal, April-June 2013, pages 143-146 Journal of Cutaneous and Aesthetic Surgery, January-March 2013, pages 4-11 Dermato-Endocrinology, July 2012, pages 253-8 Journal of Cosmetic and Laser Therapy, January 2006, pages 96-101 International Journal of Cosmetic Science, February 2000, pages 21-52 Biofactors, 1999, volume 9, pages 371-8