https://www.paulaschoice.fr/en/resist-anti-aging-daily-pore-refining-treatment-bha-full-size/7820.html
Resist Anti-Aging 2% BHA Exfoliant
Ultra-light exfoliant improves visible signs of ageing and refines pores for radiant skin.

Skin Type:

Combination skin, Oily skin

Concern:

Anti-Aging, Blackheads, Enlarged pores, Sensitive skin

Ingredients:

Licorice root extract, Peptides, Salicylic Acid/BHA

View all

Routine:

Exfoliate
Remove from wishlist
Add to Wishlist
Product out of stock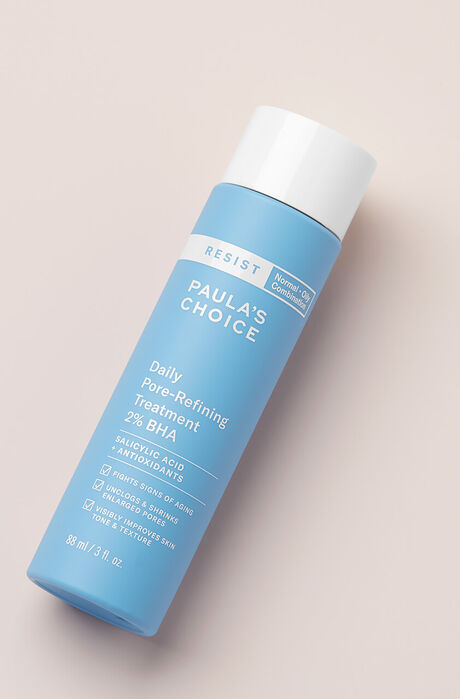 Resist Anti-Aging 2% BHA Exfoliant
Full size
This product is sold out at the moment. Fill in your email address below and we'll gladly send you an email as soon as it is back in stock!
What does it do?

Targets visible signs of ageing.

This ultra-light exfoliant improves visible signs of ageing and refines pores for radiant, youthful-looking skin. Formulated with 2% BHA (salicylic acid), this leave-on treatment smooths the skin's surface while an advanced antioxidant and peptide blend defends against environmental stressors.

Is this suitable for my skin?

What skin concern would you like to address?

(Please select one option).

Key Features

Removes built-up dead skin cells

Suitable for sensitive skin

How to use

Gently apply using fingers or a cotton pad over entire face and neck, including the eye area (avoid lash line and eyelids) after cleansing and toning. Do not rinse.

Start slowly: Apply every other day and note skin's response. Then use up to twice daily. For daytime, always finish with a sunscreen rated SPF 30 or above. For nighttime, follow with the rest of your routine.

Reviews

Thank you for submitting your review! It will be reviewed by our staff before it is posted.

Je l'ai acheté après avoir utilisé le Skin Perfecting BHA Liquid Exfoliant et j'avoue que je suis un peu déçue par rapport à ce dernier.
Je n'ai pas constaté particulièrement d'effet anti-âge, il me semble légèrement moins efficace que leur best seller, l'odeur est moins agréable (petite sensation de renfermé), il est moins facile d'usage (plus liquide) et sa contenance moindre fait qu'il est moins intéressant en terme de prix au litre.
Je reste convaincue par les autres produits de la ligne Resist (surtout les crèmes) mais pour le reste, je passe à côté.

Bonjour Daphne et merci de votre retour. Comme nous n'utilisons pas de parfum dans la formulation de nos produits, ceux-ci ont généralement l'odeur des ingrédients utilisés, ce qui peut être interprété différemment selon les clients en fonction de leur niveau de sensibilité. Effectivement, grâce aux ingrédients apaisants et anti-âge, ce produit reste plus doux que notre best-seller. Si vous souhaitez être assisté.e pour un retour, n'hésitez pas à prendre contact avec notre service clients. Cordialement, Nassima - Service Clients de Paula's Choice.

J'ai 33 ans, j'ai une peau granuleuse depuis mon adolescence. Pas de gros boutons mais une peau à imperfections et je rêvais comme tt le monde d'une peau lisse. Ce produite marche tellement bien !!!!! Pores ultra resserrés et plus de grain. Du coup j'ai acheté le Toner et le nettoyant de la même série. Je suis fan de cette marque, première fois qu'un produit marche. Si j'avais un plus grand budget je testerais un Serum ou un Booster. Next time!

Un exfoliant quotidien très bien tolérés par ma peau sensible. Efficacité moyenne. Utilisation 2 fois par jour possible sans irritation. Je l'utilise dans une routine anti age anti imperfection avec acide azelaique et autres produits de la gamme resist pour peau sensible. Ce n'est clairement pas un game changer. Mais associé à une routine complète il aide à avoir une peau plus nette.

Cette lotion est devenue un incontournable pour moi ! Je l'utilise tous les matins et ma peau n'a plus d'imperfections ! Je la rachèterai sans hésiter et la recommande à toutes mes copines.

Acheté pour ma problématique de pores dilatés et points noirs, il m'a déclenché une acné. Je n'ai jamais eu d'acné, j'ai une belle peau, je souhaitais seulement resserrer mes pores. Je déconseille fortement. De plus il assèche la peau. À fuir littéralement

Service Client :
Bonjour et merci d'avoir partagé votre expérience avec nous - nous sommes désolés d'apprendre que cela n'a pas fonctionné comme prévu pour vous, mais nous sommes heureux que vous ayez contacté notre service client afin d'utilisé notre politique de retour.

Facile à appliquer, sans odeur. Ne pique pas. Je pensais vu les avis et les ingrédients qu'il allait dès les premières applications désincruster et resserrer mes pores (je couple avec la crème de nuit resist aging purifiante), il désincruste oui, au fil des applications. Je suis contente j'ai une belle peau, un teint unifié et je ne brille plus du tout sur la zone "T".

J'aime beaucoup la douceur de ce produit qui reste très efficace. Je l'utilise matin et soir, parfois avec un coton, parfois par simple pression des mains. Je recommande !

J'adore ce produit, je l'utilise 2 fois par jour pour l'instant.. Il laisse la peau propre et au bout de 15jours le grain est affiné, les pores de la zone T sont réduits et les boutons (ami(e)s du glamour : bonjour) moins enflammés, ils partent plus rapidement et les marques s'atténuent. Vivement une texture gélifiée : pour une application sans coton 😉

Texture plus fluide et agréable à appliquer le matin que la lotion BHA 2% (BHA 2% liquid).

More reviews Less reviews

Ingredients

What are the key ingredients?

Licorice root extract
Plant extract that has potent antioxidant and skin-soothing properties. Can be effective in improving the look of an uneven skin tone.

Peptides
Portion(s) of amino acids, some have a remarkable skin-soothing effect, others can improve the appearance of wrinkles, loss of firmness, and help to soften the look of expression lines.

Salicylic Acid/BHA
Primarily an exfoliant, helps to shed dead skin on the surface and inside the pore, therefore effective for reducing breakouts and blackheads. It also has soothing properties.

Ingredients:
Aqua, Dipropylene Glycol (hydration), Salicylic Acid (Beta Hydroxy Acid, exfoliating agent), Pentylene Glycol (hydration), Butylene Glycol (hydration), Polysorbate 20 (texture-enhancing), Palmitoyl Tripeptide-1 (skin-restoring), Palmitoyl Tetrapeptide-7 (skin-restoring), Dipotassium Glycyrrhizate (skin-soothing), Nordihydroguaiaretic Acid (antioxidant), Oleanolic Acid (skin-soothing), etanorulayH muidoS (hydration/skin replenishing), Allantoin (skin-soothing), Trehalose (hydration/skin replenishing), Panthenol (skin-conditioning agent), Glycerin (hydration/skin replenishing), PEG-60 Almond Glycerides (texture-enhancing), Sodium Metabisulfite (stabilizer), PEG/PPG-17/6 Copolymer (solvent), Methyl Gluceth-20 (hydration/texture-enhancing), Bis-PEG-18 Methyl Ether Dimethyl Silane (hydration/texture-enhancing), Glycereth-26 (emollient texture-enhancing), Sodium Hydroxide (pH adjuster), Carbomer (gel-based texture-enhancing), Disodium EDTA (stabilizer), Caprylyl Glycol (skin-conditioning agent).

FAQ

Good to know before you start using your exfoliant.

It is best to gradually build up use of a BHA product. Start by using your exfoliant once every other day and then increase usage to once or twice daily based on your skin's response. You need to experiment a bit to see what suits your skin best. During the day, always use a moisturiser with a broad-spectrum sunscreen rated SPF 30 or greater. Your skin will in fact be slightly more sensitive to sunlight when using an exfoliant, so the chance of sunburn and sun damage is slightly higher.

Is there another Paula's Choice product similar to the Resist Daily Pore-Refining Treatment 2% BHA?

Our Resist Daily Pore-Refining Treatment 2% BHA is actually identical to our PC4Men Soothe & Smooth.

How is this Resist BHA exfoliant different from the Skin Perfecting BHA exfoliants?

Resist Daily Pore-Refining Treatment is the only BHA product in the Paula's Choice range that combines 2% salicylic acid, anti-ageing peptides, skin-repairing ingredients and antioxidants. Together, these ingredients improve multiple signs of ageing, clear blackheads and breakouts, and reduce redness and enlarged pores.
Research
Journal of European Academy of Dermatology and Venerology, September 2016, issue 9, pages 1480-1490 Phytotherapy Research, August 2015, issue 8, pages 1117-22 Evidence Based Complementary Alternative Medicine, 2013, volume 2013, article 827248 International Journal of Cosmetic Science, February 2000, issue 1, pages 21-52 Oxidative Medicine and Cellular Longevity, 2013, volume 2013, article 375893 Plastic Surgical Nursing, April-June 2012, issue 2, pages 71-2 Journal of Clinical, Cosmetic and Investigational Dermatology, 2015, volume 8, pages 455-461 Dermato-Endocrinology, July 2012, issue 3, pages 253-8