https://www.paulaschoice.fr/en/resist-anti-aging-youth-extending-daily-hydrating-fluid-broad-spectrum-spf-50-full-size-7800.html
Resist Anti-Aging Moisturiser SPF 50
Weightless lotion texture protects skin from the sun and leaves a soft matte finish.

Skin Type:

Combination skin, Oily skin

Concern:

Breakouts , Anti-Aging , Blackheads , Brown spots

Ingredients:

Antioxidants , Avobenzone , Green Tea Extract

View all

Routine:

Moisturizer AM
Remove from wishlist
Add to Wishlist
Product out of stock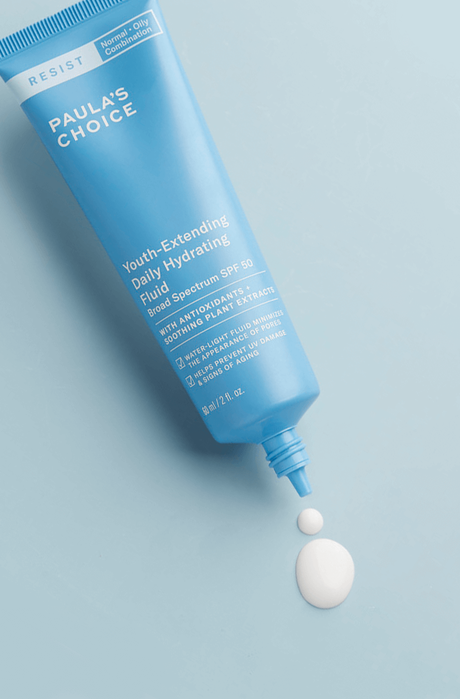 Resist Anti-Aging Moisturiser SPF 50
Full size
This product is sold out at the moment. Fill in your email address below and we'll gladly send you an email as soon as it is back in stock!
What does it do?

A weightless anti-ageing moisturiser for oily skin.

This weightless moisturiser with SPF 50 combines superior UVA/UVB protection with soothing, plant-based antioxidants that help fight the signs of ageing and protect skin from environmental damage. With a soft matte finish, this lightweight lotion leaves skin smooth, hydrated and younger-looking.

Key Features

Suitable for breakout-prone skin

Light lotion, does not feel oily

How to use

Apply as the last step in your morning skincare routine. Allow a moment to dry before applying makeup.

Reviews

Thank you for submitting your review! It will be reviewed by our staff before it is posted.

Texture fluide pas collante, la crème est agréable à appliquer et tient ses promesses. Seul problème : le tube s'est fendu le long du bouchon au bout de quelques utilisations et la crème coule sur les côtes à présent, rendant le dosage difficile. Je n'ai jamais rencontré ce problème de contenant avec mes autres produits PC, dommage !

Bonjour Aurorita. Merci d'avoir pris le temps de laisser votre avis sur ce produit. Nous sommes ravis de lire que ce produit vous convient! Je suis désolée d'apprendre que votre tube est endommagé. Nous vous contacterons directement afin de mieux vous assister!
Cordialement, Nassima - Service client de Paula's Choice

je changerais jamais cette crème SPF , et toute la gamme résistance anti-aging , je suis plus que satisfaite

Customer Care : Bonjour Zineb, merci pour votre commentaire ! Nous sommes heureux de lire que vous êtes ravie de notre Resist Anti-Aging Crème de jour SPF 50 ! Nous serions ravis de vous accueillir à nouveau dans notre boutique en ligne. Mylène - Service clientèle de Paula's Choice.

Je suis ravie ! Elle ne graisse pas, laisse la peau hydratée et protège bien du soleil. Petit bémol, la texture est très fluide, il faut s'y habituer.
J'ai acheté plusieurs produits de cette gamme et ai commencé à les utiliser en même temps alors je ne sais pas si c'est cette crème ou la combinaison de tous les produits mais j'ai la peau lisse don't j'ai toujours rêvé ça change la vie

I didn't find it efficient enough, it sticks on the skin, doesn't get absorbed easily and not sure if the protection is as efficient as it claims!

Customer Care:
Dear Eric, Thank for your feedback! I am sorry to hear the texture of the product does not suit your skin. If you skin type is on the oily side, I would suggest the Skin Balancing SPF 30, it has a light texture and gives a matte finish on the skin. I'd like to assure you that all our sunscreen products provide protection against both ultraviolet B radiation (UVB) and ultraviolet A radiation (UVA). If you have any questions or would like additional advice, please feel free to contact us again. Kind regards, Céline - Paula's Choice Customer Care Team

Très satisfaite de cette crème, sur peau mixte, elle apporte l'hydratation nécessaire pour une peau lumineuse toute la journée !
Je la recommande :)

Service client : Bonjour Rose, merci pour votre commentaire ! Nous sommes heureux de lire que votre peau reste hydratée grâce à notre Resist Anti-Aging Crème de jour SPF 50. Nous serions ravis de vous accueillir à nouveau dans notre boutique en ligne. Mylène - Service clientèle de Paula's Choice.

Bonne crème de jour
Bonne odeur
Fluide ne colle pas
Matifie le visage

Petite crème très fluide (presque liquide) du jour qui a un bon indice spf , ne laisse pas de film gras, ne peluche pas sous le maquillage.
Par contre elle est très limite niveau hydratation. Pourtant je l'utilise après une routine matinale très axée sur l'hydratation (lotion, sérums ect ) mais avec ça, il m'arrive souvent que ma peau tiraille si je l'utilise seule après le serum. Du coup pour les zone plus déshydraté je rajoute une crème hydratante sans actifs au dessous. Peut-être qu'elle sera suffisante lors des grandes chaleurs. Actuellement elle est vraiment juste.
Mais elle reste un basique indispensable de ma trousse skincare.

Service client :
Bonjour Rim, merci d'avoir partagé votre expérience et je suis ravie que cette crème fasse partie des indispensables de vos produits cosmétiques ! Appliquée avant votre crème de jour, la Crème de nuit Water Infusing Electrolyte peut aussi vous apporter ce petit plus d'hydratation pour la journée.
Si vous avez besoin de conseils, n'hésitez pas à nous envoyer un message. Nous serons heureux de vous aider ! Céline- Service clientèle de Paula's Choice

J'ai une peau avec des cicatrices d'acné rouge et un peu sèche, elle me convient totalement. J'ai enfin trouvé une crème solaire qui ne laisse pas de traces blanches. Quand on a la porte on la sent plus.
TOP!

Crème de jour parfaite. Elle offre une haute protection solaire sans laisser de film blanc sur la peau, ni de sensation collante. Elle s'applique très facilement et pénètre rapidement. Aucune brillance constatée au fil de la journée. Je recommande.

J'ai acheté cette crème et j'en suis très satisfaite. Elle est très léger bien pénètre. Ne laisse pas aucune collante.

Agréable à appliquer, ne laisse pas de traces blanches. Cependant il n'y a aucune indication quant à la quantité nécessaire à une bonne protection solaire. Impossible d'en mettre en contour des yeux car pique énormément.
Est-ce aussi efficace qu'une crème + un produit solaire ?
Je ne rachèterai pas.

Service Client :
Désolée que ce produit ne vous convienne pas. Toutes nos crèmes de jour possèdent une protection solaire à large spectre, UVA/UBA, comme toute protection solaire nous conseillons de les appliquer généreusement.
Le contour des yeux est une zone du visage plus sensible et une crème minérale pourrait, dans votre situation, mieux convenir.

Crème bien hydratante pour une peau mixte, ne laisse pas de film gras sur la peau.

More reviews Less reviews

Ingredients

What are the key ingredients?

Antioxidants
Help to protect skin against harmful free radicals, among others caused by sun light and pollution. They have anti-ageing properties and calm skin.

Avobenzone
Synthetic sunscreen ingredient, provides broad-spectrum sun protection and is one of the most widely used UVA filters in the world.

Green Tea Extract
Possesses potent antioxidant and skin-soothing properties and has impressive research in terms of its many benefits for skin, including anti-ageing properties.

Ingredients:
Aqua, Ethylhexyl Methoxycinnamate (Octinoxate, 7,5%, sunscreen), Glycerin (hydration/skin replenishing), Ethylhexyl Salicylate (Octisalate, 5%, sunscreen), Silica (absorbent agent), Octocrylene (2%, sunscreen), Butyl Methoxydibenzoylmethane (Avobenzone, 2%, sunscreen), Dimethicone (hydration), Benzyl Alcohol (preservative), Tocopherol (vitamin E/antioxidant), Chamomilla Recutita (Matricaria) Flower Extract (antioxidant), Vitis Vinifera (Grape) Seed Extract (antioxidant), Camellia Sinensis (Green Tea) Leaf Extract (antioxidant), Camellia Oleifera (Green Tea) Leaf Extract (antioxidant), Peucedanum Graveolens (Dill) Extract (antioxidant), Sambucus Nigra (Black Elderberry) Fruit Extract (antioxidant), Avena Sativa (Oat) Bran Extract (skin-soothing), Punica Granatum (Pomegranate) Extract (antioxidant), Lycium Barbarum (Goij) Fruit Extract (antioxidant), Hydrogenated Lecithin (skin-restoring), Titanium Dioxide (texture-enhancing/texture-enhancing), Dimethicone/Vinyl Dimethicone Crosspolymer (hydration), Diethylhexyl Syringylidenemalonate (hydration), Hydroxyethyl Acrylate/Sodium Acryloyldimethyl Taurate Copolymer (film-forming/suspending agent), Xanthan Gum (texture-enhancing), Sodium Carbomer (texture-enhancing), Sodium Benzoate (stabilizer), Potassium Sorbate (stabilizer), Phenoxyethanol (preservative).

FAQ

What is the main difference between Resist Anti-aging Youth-extending Hydrating Fluid SPF 50 and Resist Anti-Aging Super-light Wrinkle Defense SPF 30?

Resist the Hydrating Fluid SPF 50 has a fantastic light texture that is ideal if you have oily skin prone to breakouts and blackheads. Resist Super-Light SPF 30 is formulated with a mineral sunscreen, which makes it more suitable for people with sensitive, oily skin. The mineral filter provides a slightly more mattifying effect than Resist Hydrating Fluid SPF 50. Resist Super-light SPF 30 has a touch of colour to help skin look more even-toned.

Is there another Paula's Choice product which is similar to Resist Anti Aging Youth-Extending Fluid SPF 50?

Our Resist Anti Aging Youth-Extending Fluid SPF 50 is identical to our Clear Ultra-Light Daily Mattifying Fluid SPF 30+, except for the SPF coverage.
Research
Seminars in Plastic Surgery, August 2016, issue 3, pages 129-133 Oxidative Medicine Longevity, 2015, volume 2015, 709628 Dermatologic Research and Practice, 2012, volume 2012, 135206 The Journal of Clinical and Aesthetic Dermatology, January 2013, issue 1, pages 16-26 Indian Journal of Dermatology and Venereology, March-April 2012, issue 2, pages 142-145 Archives of Dermatology, August 2000, issue 8, pages 989-994 Molecular Medicine Reports, November 2010, issue 6, pages 895-901 International Journal of Toxicology, 2001, volume 20, supplement 1, pages S21-45 Phytomedicine, January 2005, issue 1-2, pages 131-137