https://www.paulaschoice.fr/en/sun-care-extra-care-non-greasy-sunscreen-broad-spectrum-spf-50-full-size/2320.html
Sunscreen SPF 50
Non-greasy, silky texture offers broad-spectrum sun protection with a matte finish.

Skin Type:

All skin types

Concern:

Anti-Aging , Brown spots

Ingredients:

Avobenzone , Homosalate , Vitamin E

View all
Variations
Full size 148 ml
Remove from wishlist
Add to Wishlist
Product out of stock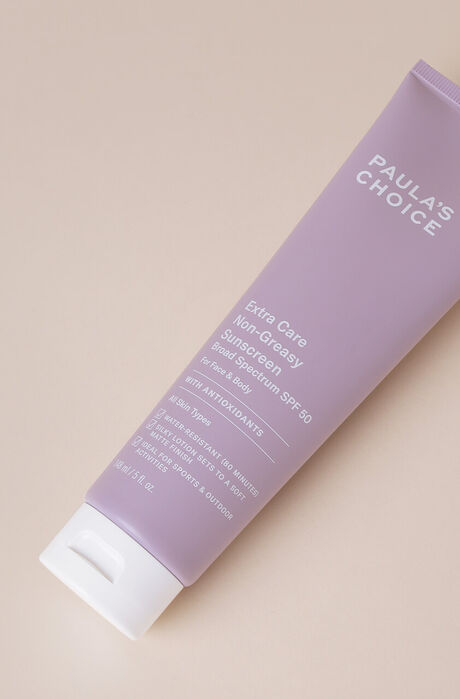 Sunscreen SPF 50
Full size
This product is sold out at the moment. Fill in your email address below and we'll gladly send you an email as soon as it is back in stock!
What does it do?

Versatile and lightweight sun protection.

This broad-spectrum, antioxidant-rich sunscreen has a non-greasy, silky texture that feels weightless on the skin. The water-resistant formula is designed for use on the face or body and it is perfect for outdoor activities.

Key Features

Light cream for easy application

Suitable for face and body

How to use

Apply liberally before sun exposure and as needed after swimming and/or perspiring. Can be used over any Paula's Choice skincare product.

Reviews

Thank you for submitting your review! It will be reviewed by our staff before it is posted.

Je suis déçue. Cette crème solaire pique et laisse parfois des traces blanches quand on met une bonne dose (la dose normale )

Service Client :
Quelle déception que cette crème n'ait pas convenu à votre peau ! Malheureusement, tout le monde ne réagit pas de la même manière aux ingrédients, et certaines peaux peuvent être plus sensibles à un ingrédient particulier que d'autres. N'hésitez pas à contacter notre service client.

Peau grasse et réactive.
Cette crème solaire est top, s'étale bien et ne laisse pas de film blanc. Avec un fin sec et un peu mat, cette crème solaire sera parfaite pour les personnes (comme moi) qui détestent sentir une grosse couche de SPF sur le visage (surtout avec les masques chirurgicaux).
Le seul point qui pourrait déranger certaines personnes est l'odeur, car la crème a une légère odeur de crème solaire normale.

Sujette aux tâches pigmentaires sur le visage, cette crème est hyper efficace. Par contre attention à ne pas en mettre autour des yeux car ça pique beaucoup...
Et même sur la peau du visage en général, l'application n'est pas super agréable. En ce qui me concerne, de sérieux picotements dès la 1ère application.
Mais Texture agréable, pas de traces blanches, pas de réaction de type boutons, pas de rougeurs. La peau est hydratée, non grasse.
Mon objectif essentiel était de protéger ma peau sans apparition de nouvelles tâches brunes, et sans aggraver celles déjà existantes.
Mission réussie pour cette crème.
En revanche pas de soucis de picotements sur le corps.

Message du service client :
Je vous remercie d'avoir pris le temps de partager votre expérience avec notre crème. Elle est adaptée pour le corps ainsi que pour le visage, cependant les picotements que vous ressentez indiquent que la peau de votre visage est plus sensible. Je vous conseille d'appliquer sur votre visage plutôt une crème contenant une protection solaire minérale tel que notre Calm Crème de jour SPF 30. N'hésitez pas à nous contacter pour toute question !

More reviews Less reviews

Ingredients

What are the key ingredients?

Avobenzone
Synthetic sunscreen ingredient, provides broad-spectrum sun protection and is one of the most widely used UVA filters in the world.

Homosalate
Synthetic sunscreen ingredient that provides primarily UVB protection. Considered non-sensitising, and most often seen in sunscreens rated SPF 30 and greater.

Vitamin E
One of the most researched antioxidants for the body and for skin. Plays a supporting role in helping defend skin from the stress caused by UV light exposure.

Contains: Benzophenone-3 (Oxybenzone)

Ingredients:
Aqua, Homosalate (10%, sunscreen),Butylene Glycol (hydration/texture-enhancing), Benzophenone-3 (Oxybenzone, 6%, sunscreen), PEG-8 (texture-enhancing), Ethylhexyl Salicylate (Octisalate, 5%, thickener), Polyethylene (texture-enhancing), Butyl Methoxydibenzoylmethane (Avobenzone, 3%, sunscreen), Octocrylene (2%, sunscreen), Silica (absorbent), Dimethicone (hydration), Picea Excelsa (Spruce) Wood Extract (skin-soothing), Sodium Ascorbyl Phosphate (vitamin C/antioxidant), Retinyl Palmitate (vitamin A/ antioxidant/skin replenishing), Tocopherol (vitamin E/antioxidant), Tocopheryl Acetate (vitamin E/antioxidant), Titanium Dioxide (Nano, texture-enhancing), Aloe Barbadensis Leaf Juice (hydration/skin-soothing), Bentonite (absorbent), Methyl Glucose Sesquistearate (texture-enhancing), Acrylates/C10-30 Alkyl Acrylate Crosspolymer (texture-enhancing), Sodium Polyacrylate (texture-enhancing), Kaolin (absorbent), Ethylhexylglycerin (preservative), Disodium EDTA (stabilizer), Sodium Hydroxide (pH adjuster), Phenoxyethanol (preservative), Chlorphenesin (preservative).

FAQ

Is Extra Care Non-Greasy Sunscreen SPF 50 suitable for blemish-prone skin?

Although it is impossible to state with certainty that someone will not break out from a sunscreen, the texture and finish of Extra Care Non-Greasy Sunscreen SPF 50 is very unlikely to cause such problems. Oftentimes what causes breakouts from sunscreens are either the active ingredients or the ingredients used create the product's texture. Extra Care Non-Greasy Sunscreen SPF50 contains lightweight ingredients and its active ingredients are less likely to trigger or exacerbate blemishes.

I thought Paula said sunscreens rated above SPF 30 weren't needed—SPF 30 is enough, right?

For the most part, SPF 30 is sufficient. But there are two reasons why you may want to consider a higher SPF. Many dermatologists feel that a higher SPF is necessary because most people don't apply sunscreen liberally, and when there is a higher concentration of sunscreen active ingredients (as would be the case in a sunscreen with a higher SPF number) you would be getting better protection even if you didn't apply it liberally. The other reason to consider a higher SPF is if you want to stay in the sun for even longer periods of time and have very fair to light skin color. Although Paula has spoken out against the fact that other companies offer sunscreens with oftentimes ridiculously high SPF ratings (such as SPF 70 or 100), the issue has always been that such products tend to give consumers a false sense of security. They erroneously believe that a higher SPF only needs to be applied once as they spend the day in the sun. That is not the case for any sunscreen number. A sunscreen rated SPF 30 or above provides longer but not better protection. That means you can stay in the sun longer before your skin shows signs of turning color, but does not negate the need to reapply every two hours after periods of swimming, perspiring, or toweling off. We suggest our Extra Care Non-Greasy Sunscreen SPF 50 for those who will be spending several hours outdoors and/or engaging in water-based activities. Liberal application and routine re-application is necessary in order to maintain the high level of sun protection.
Research
Biochimie, Sep-Oct 2016, volumes 128-129, pages 163-173 Clinical Cosmetic Investigative Dermatology, September 2015, issue 8, pages 471-477 The Journal of Clinical and Aesthetic Dermatology, January 2013, issue 1, pages 16-26 Indian Journal of Dermatology, 2008, volume 53, issue 4, pages 163-166 Journal of Clinical Interventions in Aging, December 2006, issue 4, pages 327-348 Indian Dermatology Online Journal, April-June 2013, issue 2, pages 143-146 Dermatologic Therapy, September-October 2007, issue 5, pages 314-21