https://www.paulaschoice.fr/en/water-infusing-electrolyte-moisturizer-travel-size-7007.html
Water-Infusing Electrolyte Moisturiser - Travel Size
The Water-Infusing Electrolyte Night Cream is a burst of hydration that works to replenish the water content inside skin. It's weightless, refreshing texture nourishes and recharges dull looking skin.

Skin Type:

All skin types

Concern:

Dull skin

Ingredients:

Minerals (electrolytes) , Olive-derived fatty acids , Apple and super-fruit antioxidant complex

View all

Routine:

Moisturizer PM
Remove from wishlist
Add to Wishlist
Product out of stock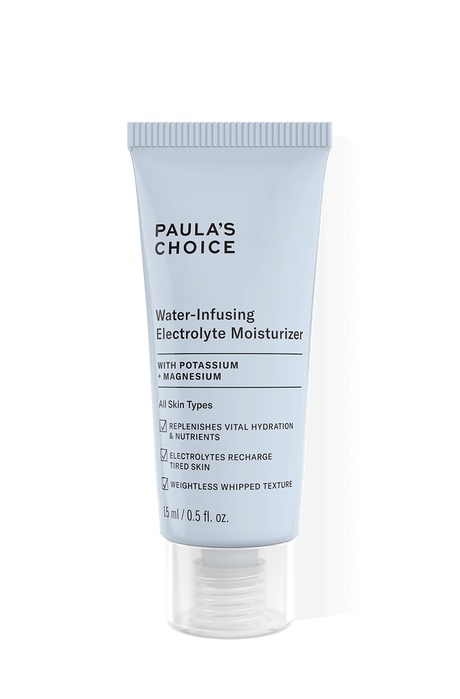 Water-Infusing Electrolyte Moisturiser - Travel Size
Travel size
This product is sold out at the moment. Fill in your email address below and we'll gladly send you an email as soon as it is back in stock!
What does it do?

Intense hydration for dehydrated skin

Do you suffer from dull, tired, dehydrated skin? Then the Water-Infusing Electrolyte Night Cream is the perfect solution. Minerals (electrolytes) maintain the natural moisture balance, both on the skin's surface and in the deeper layers of the skin. Antioxidants help protect your skin against harmful external influences at the same time.

Because this night cream is rich in minerals (electrolytes), it is a very suitable for those who suffer from dehydrated skin. Dehydrated skin needs moisture, while dry skin needs fats. Due to its light, lotion texture, the Water-Infusing Electrolyte Night Cream is easy and quick to apply. Minerals improve the way the skin absorbs and retains moisture. This provides extra hydration, making the skin feel soft and smooth. It provides a better skin structure without the risk of clogging your pores. This makes this night cream suitable for all skin types, even for acne-prone skin.

How the minerals (electrolytes) work

The minerals calcium, potassium and magnesium are linked with the substance PCA (pyrrolidone carboxylic acid). This occurs naturally in the skin and plays a role in the process of hydration. The minerals give this whole process a boost by helping to transport ceramides and glycerin (the ultimate skin hydrators).

Key Features

Reenergises and recharges tired skin.

Light lotion, does not feel oily

Strengthens skin's natural barrier

How to use

A night moisturiser is the last step in your evening routine.
Apply the moisturiser liberally to your face after cleansing, toning, exfoliating and applying an antioxidant serum or targeted treatment .

Reviews

Thank you for submitting your review! It will be reviewed by our staff before it is posted.

Légère et très efficace. Elle tient ses promesses d'hydratation. Je valide à 200%. Et surtout pour la saison printemps été... car elle est légère.

Service client : Bonjour Fanny, merci pour votre commentaire ! Nous sommes heureux de lire que vous pensez que la Water-Infusing Electrolyte Crème de Nuit tiens ces promesses ! Ce produit est actuellement en rupture de stock, victime de son succès. N'hésitez pas à cliquer sur ''Tenez-moi au courant'' afin d'être informée de son retour. Mylène - Service clientèle de Paula's Choice.

J'utilise cette crème en soin de nuit et elle me convient parfaitement car elle ne colle pas et elle est très agréable. J'avais pris le format voyage pour essayer mais je prendrai le grand format à ma prochaine commande !

Service client : Chère Laxmi, merci d'avoir pris le temps d'écrire un commentaire positif sur la Crème de Nuit Water-Infusing Electrolyte ! Et je suis ravie d'entendre que vous êtes si rapidement comblée après l'avoir utilisé. Chaleureuses salutations, Mylène - Équipe du service clientèle de Paula's Choice

Très bon produit; la peau est hydratée, rebondie, repulpée. Je l'ai testé en format voyage, et je rachèterai le format normal.

Cette crème est parfaite pour ma peau sèche, il faut en mettre à peine la crème pénètre bien ma peau est toute douce ensuite

Cette crème est juste parfaite pour ma peau mixte et déshydratée.
Absorption rapide et confort immédiat.
Je l'utilise parfois même le matin en cas de besoin.

Des première utilisation j'ai découvert la texture que j'ai trouvé très inhabituelle. En tout cas c'est la première fois que je voie une texture un peu compacte pour un soin hydratant. Mais une fois l'application, tu sens une texture très douce sur la peau, comme un voile sur la peau. Le résultat de l'hydratation et l'efficacité du produit vient avec le temps, ce n'est pas une hydratation instantané. Je pense que pour une peau déshydraté il faut appliquer des soins supplémentaires (essence, sérum, etc..) pour apporter une hydratation au maximum.
Je suis très contente du produit

J'ai commandé ce produit en format voyage afin de le tester.
Pari réussi, cette crème est légère, facile et agréable à appliquer. Elle ne me laisse aucun film gras. Un vrai coup de coeur. Malheureusement, en voulant le commander en grand format, je me suis trompée, j'ai pris la crème complexe oméga, qui est un peu trop grasse pour moi.

Service client:
Bonjour et merci de nous avoir fait part de votre expérience - nous sommes désolés d'apprendre que vous avez commandé ce produit par erreur! Nous vous encourageons à contacter notre service client et ainsi profiter de notre garantie de retour.

Au niveau de la texture c'est comme un beurre fouetté c'est agréable à étaler et ça ne colle quasiment pas. Essayez le d'abord en format voyage puis vous verrez s'il vous convient ou pas (comme tous les produits Paula's choice). Hydrate sans donner de boutons. C'est pour l'instant une de leurs seule crème de nuit que j'aime vraiment. Il y a une odeur très légère, que je n'adore pas particulièrement mais elle n'est vraiment pas dérangeante et pourtant je suis sensible aux odeurs dans les cosmétiques. A mon avis elle vaut le coup d'être testée.

je trouve cette creme trop grasse pour moi... et je n'ai vu aucun resultat si ce n'est que ma peau est devenue plus grasse qu'elle ne l'etait. Dommage car j'avais vu plein de bons avis sur cette creme

Bonjour et merci d'avoir partagé votre expérience avec nous. Nous sommes désolés d'apprendre que cela n'a pas fonctionné comme prévu pour vous ! N'hésitez pas à nous contacter afin que nous puissions vous conseiller un produit plus adapté pour vos besoins.

La texture est fraîche et agréable sur la peau. La crème n'est pas grasse et hydrate bien.

Crème efficace qui hydrate, ni trop, ni trop peu. Pas d'effet gras ou luisant. La peau est mate après application. Produit très agréable que je superpose avec d'autres crèmes matin (sous le spf) ou soir. Je l'utilise en fonction de mon ressenti et du besoin de ma peau. Très satisfaite.

Une texture très agréable qui laisse la peau toute douce ! Je recommande vivement ce produit ! Il apporte fraicheur et apaisement à ma peau, je suis tout à fait satisfaite !

Une crème très légère pour ma peau grasse, pénétre facilement et laisse ma très hydratée. Niveau sensoriel l'odeur faut aimer mais bon quand on cherche de l'efficacité on s'en passe de l'odeur 😉. Je recommande !

C'est marqué crème de nuit mais je la porte aussi le jour avant mon fluide spf 30 et c'est juste une merveille. On a l'impression de se passer de l'eau sur le visage tellement la crème fond sur la peau...je recommande ce produit.

La crème elle est super bien j'ai remarqué un changement depuis que j'ai commencé à l'utiliser

Ma nouvelle crème de nuit, texture légère mais hydrate bien ma peau

Crème très agréable, pas grasse et pénètre rapidement. Peau bien hydratée

Texture comme fouettée, légère mais hydrate très bien ma peau. Très belle découverte et les ingrédients sont très intéressants ... achetée en petit format, je reviendrai vers elle qd j aurai terminé ma svr.

Après avoir lu les bons avis tout en restant un peu sceptique j'ai commandé le format voyage. Je l'utilise donc depuis le 11 novembre nous sommes le 20 décembre. Une vraie pépite !!!
Agréable à l'application, pas de fini gras, je sens que ma peau est bien hydratée. Le lendemain matin ma peau est belle, reposée toujours pas de sensation de tiraillement ni de gras aux ailes du nez ou sur le front comme avec d'autres crèmes. J'utilise également la lotion BHA exfoliante matin et soir je pense que ça y contribue. Du coup je recommande 😜

Ce produit est juste dingue. La texture est très agréable et ma peau en raffole. J'ai une peau grasse sur la zone T est cette crème me correspond tout à fait. Je le mixe avec 3 gouttes de Booster 10% Niacinamide et ce combo est très équilibré

La texture ultra légère est très agréable à utiliser, ça semble presque aqueux tout en ayant assez de matière pour avoir la peau confortable après application. Je la recommanderai !

Ma nouvelle crème de nuit depuis quelques semaines, elle est top et fait parfaitement son travail !

J'ai beaucoup apprécie cette crème : texture légère comme crème fouettée, s'absorbe facilement, ne laisse pas de la sensation graisse.

J'adore cette crème que j'ai découverte dans un kit Beauty insider. La texture est très légère, s'étire facilement, hydrate et surtout repulpe les traits !
Je l'utilise depuis 15 jours et j'ai vu une réelle différence sur mon visage !
J'ai la peau mixte et sensible, et aucune réaction avec cette crème, au contraire c'est une merveille !
En plus, elle est assez économique car je penses que le format voyage ça me durer plus d'un mois !
Je vais la racheter en grand format !

Finesse, légèreté... Un splash d hydratation dès l application... Mon nouveau soin du soir

Apaise, hydrate est facilement absorbée par la Peau. La sensation est très agréable.

parait épaisse mais fond rapidement dans la peau . pas grasse du tout. le lendemain la peau est toute douce. je crois bien qu'elle va devenir ma crème préférée !

Une incroyable texture alliant richesse, parfaite affinité avec la peau, légèreté et confort. Bravo !

Ma peau est très déshydratée cet hiver , je recherchais une crème qui hydrate efficacement ma peau mixte , très réactive et très sèche sur le front et les tempes , sans parfum et surtout qui hydrate vraiment . Aucune réaction de ma peau , bien au contraire , une texture riche qui enveloppe ma peau mais qui s'évapore au bout de quelques minutes pour laisser une peau fraîche , hydratée, sans aucune sensation grasse. Je l'ai commandé dès le lendemain en full size!

Ça fait 3 semaines que je l'utilise, c'est exactement ce que je cherchais quand je l'ai acheté, une crème de nuit bien hydratante pour l'hiver, qui se melange bien avec tous mes boosters / sérums, mais sans alourdir la peau. Sa texture est très agréable et fraiche, parfaite pour ma peau sensible/mixte. Très satisfaite!

J'utilise cette crème depuis environ deux semaines le matin sous ma protection solaire (décembre), et j'apprécie beaucoup sa texture fraîche et fondante. Elle pénètre rapidement et ne fait pas boulocher ma crème de jour avec SPF (de la gamme Calm, très bien aussi). Je l'utiliserai sans doute le soir à partir du printemps.

More reviews Less reviews

Ingredients

What are the key ingredients?

Potassium PCA * strengthens the skin's barrier and maintains its moisture balance.
Magnesium PCA * hydrates the skin and repairs a damaged barrier.
Calcium PCA * influences the formation of new skin cells.

* Pyrrolidone carboxylic acid. Occurs naturally in the skin.

Olive-derived fatty acids
Soften and smooth without feeling greasy.

Apple and super-fruit antioxidant complex
Strengthens skin's natural barrier.

Ingredients:
Aqua, Glycerin (skin-replenishing), Dimethicone (hydration/texture enhancer), Butylene Glycol (hydration), Propanediol (hydration), Glyceryl Stearate (emollient/emulsifier), Isohexadecane (texture enhancer), Stearic Acid (texture enhancer), Potassium PCA (mineral electrolyte/skin-replenishing), Magnesium PCA (mineral electrolyte/skin-replenishing), Calcium PCA (mineral electrolyte/skin-replenishing), Ethylhexyl Olivate (hydration), Polyglyceryl-4 Olivate (emollient/emulsifier), Pyrus Malus (Apple) Fruit Extract (antioxidant), Laminaria Saccharina (Brown Algea) Extract (skin-soothing/antioxidant), Actinidia Chinensis (Kiwi) Fruit Extract (antioxidant), Coffea Arabica (Coffee) Seed Extract (antioxidant), Biotin/Folic Acid/Cyanocobalamin/Niacinamide/Pantothenic Acid/Pyridoxine/Riboflavin/Thiamine/Yeast Polypeptides (skin-restoring), Garcinia Mangostana (Mangosteen) Peel Extract (antioxidant), Prunus Serotina (Wild Cherry) Fruit Extract (antioxidant), Squalane (emollient), Ceramide EOP (skin-replenishing), Ceramide AP (skin-replenishing), Ceramide NP (skin-replenishing), Pisum Sativum (Pea) Extract (antioxidant), Phytosphingosine (skin-replenishing), Cholesterol (skin-replenishing), Acetyl Hexapeptide-37 (skin-restoring), Oryza Sativa (Rice) Bran Extract (hydration/antioxidant), Tocopherol (vitamin E/antioxidant), Creatine (skin-restoring), Bisabolol (skin-soothing), Sorbitol (hydration), Inositol (skin-replenishing), Xylitol (hydration), Caprylic/Capric Triglyceride (skin-replenishing), Sodium Levulinate (skin-softening/preservative), Behenyl Behenate (thickener), Tribehenin (hydration), Sodium Lauroyl Lactylate (thickener/emulsifier), Xanthan Gum (thickener), Sodium Acrylates Copolymer (film-forming agent), Acrylates/C10-30 Alkyl Acrylate Crosspolymer (film-forming agent), Carbomer (thicknener), Sodium Hydroxide (pH adjuster), Tetrasodium EDTA (chelating agent), Phenoxyethanol (preservative), Ethylhexylglycerin (preservative). [r0/il237v1]

Faq

What is the difference between the Water-Infusing Electrolyte Night Cream and other night creams from Paula's Choice?

All Paula's Choice night creams have their own unique properties. Do you have a dehydrated skin? Then the Water-Infusing Electrolyte Night Cream is very suitable. Do you have dry to very dry skin? Then you can also opt for the Skin Recovery Night Cream or the Clinical Ceramide-Enriched Night Cream. Do you have normal skin with some dry spots? Then the Omega + Complex Night Cream (rich in omega fatty acids) is a good choice. For normal to combination skin, it is best to choose the Water-Infusing Electrolyte Night Cream or the Defense Night Cream (for extra protection against air pollution). Do you have combination to oily skin? Then we recommend that you use the Skin Balancing Night Cream.