https://www.paulaschoice.fr/en/aa-booster-7750.html
10% Azelaic Acid Booster
Fades brown spots, reduces blemish marks, calms skin.

Covid-19 is impacting our supply and unfortunately this product will be out of stock for a while. We are working to make it available again as soon as we can. Sign up below to receive an email when it is back in stock. In the meantime, our skincare experts recommend using: Clear Skin Clearing Treatment.

Skin Type:

All skin types

Concern:

Breakouts , Anti-Aging , Brown spots , Rosacea-prone skin , Dull skin

Ingredients:

Adenosine , Azelaic Acid , Salicylic Acid/BHA

View all

Routine:

Treatment
Remove from wishlist
Add to Wishlist
Product out of stock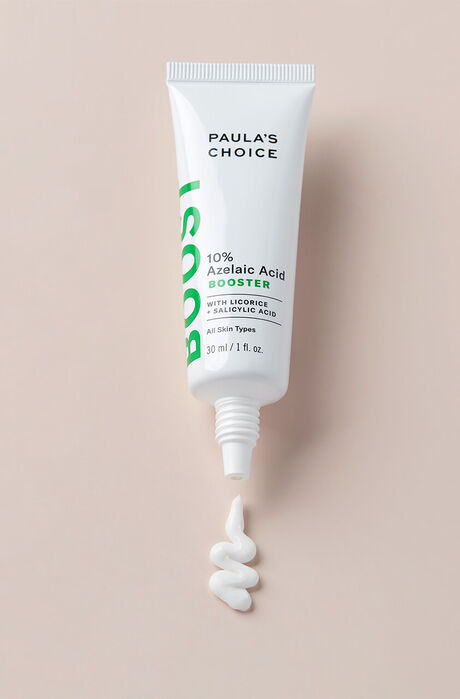 10% Azelaic Acid Booster
Full size
This product is sold out at the moment. Fill in your email address below and we'll gladly send you an email as soon as it is back in stock!
60 day money-back guarantee
Safe payments
What does it do?

Target multiple skin concerns at once

The Azelaic Acid Booster is a real multi-tasker. The powerful combination of azelaic acid, salicylic acid and plant extracts has multiple benefits for skin. This booster visibly fades brown spots caused by sun damage, works to reduce breakouts and diminish red marks from past blemishes. Plant derived brightening and soothing ingredients reveal a more radiant, even complexion. A perfect alternative for those sensitive to benzoyl peroxide.

How to use

Once or twice daily, apply to face and neck. May be used alone or added to your favourite moisturiser or serum. For daytime, always follow with a sunscreen rated SPF 30 or greater.

Reviews

Thank you for submitting your review! It will be reviewed by our staff before it is posted.

Super produit qui a bien fonctionné. Il aide a réduire les boutons et surtout à éviter les taches sombres. Je mets une étoile en moins car le tube est vraiment trop petit. Il faudrait proposer un format plus adapté pour une bonne routine.

Service client : Bonjour Mireille et merci pour vos commentaires ! Nous sommes toujours à la recherche de moyens d'améliorer nos produits, nous transmettrons donc vos commentaires à notre équipe de développement de produits. Chaleureuses salutations, Mylène - Équipe du service clientèle de Paula's Choice

Je n'ai pas constaté de diminution de mes tâches de boutons que j'ai chaque mois a cause de mes règles je l'ai utilisé depuis un mois et demi il m'en reste je vais terminé le tube mais je ne le rachèterai pas

Service client : Nous sommes désolés de lire que vous n'obtenez pas les résultats escomptés. Notre service client est là pour vous guider et adapter votre routine si vous le souhaitez. Mylène de Paula's Choice.

Je suis très mitigé sur ce produit que j'ai introduit dans ma routine il y a plus d'un mois. Je vois une certaine efficacité sur les cicatrices foncées d'acné. Diminue légèrement l'inflammation des boutons naissants dus à l'irritation par le masque. Mais aucun effet long terme sur la structure de la peau sur les pores dilatés la vitesse de cicatrisation ect..
Du coup je ne pense pas le racheter . A moins que je découvre une autre manière de l'appliquer pour qu'il soit plus efficace. La je met sur le visage entier le soir après la lotion et serum. Le matin pareil mais que sur la zone T. Je vais finir le tube en application locale sur les taches.

Je n'ai utilisé ce produit que sur zone ciblée pour mes tâches et vu les résultats tellement vite, en moins d'une semaine mes taches étaient déjà moins visible.

Ce produit est top, je l'applique localement sur les boutons naissants et les petites tâches, les boutons partent plus rapidement et laissent moins de cicatrices. Un essentiel à avoir sous la main 🥰

J'ai eu des gonflements au niveau des hauts des joues seulement après quelques applications malheureusement ne me convient pas pour ma peau

Service Client :
Merci pour votre avis. Nous sommes désolés d'apprendre votre expérience et votre inconfort. N'hésitez pas à contacter notre service client afin de bénéficier de notre garantie de retour de produit.

Ce produit n'est pas adapté à ma peau. J'ai eu des tâches au niveau du contour de l'œil et après l'application du produit ça picote. Je n'ai pas constaté d'amélioration.

Service Client :
Bonjour Maéva et merci de nous avoir fait part de votre expérience - nous sommes désolés d'apprendre que cela n'a pas fonctionné pour vous ! Nous vous encourageons à contacter notre service client et ainsi profiter de notre garantie de retour.

Je trouve un résultat en peu de temps mon grain plus homogène lisse la peau soigne les imperfections la composition est bonne ma peau a bien réagit et les taches s estompent je conseille pour les peaux a problème dommage que cela soit si cher je reprends mais en format voyage qui ressemble plus à un tube échantillon

Je l'utilise depuis seulement 2 semaines , je le met tout les soirs , il est au top ! Je le recommande

Ma peau ne supporte pas le produit, après avoir vu de nombreux points positifs.
Cet acide ne me convient pas du tout, l'état de ma peau c'est même aggravé ..

Service Client :
Bonjour et merci de nous avoir fait part de votre expérience - nous sommes désolés d'apprendre que cela n'a pas fonctionné pour vous ! Nous vous encourageons à contacter notre service client, qui pourra vous assister concernant le retour d'un produit.

Les tâches brunes apparues sur mon visage à cause du soleil se sont estompées au fils des semaines. Je ne peux plus m'en passer ! Je l'adore!

Ma peau ne doit pas supporter les acides. Je n'ai pas vu d'amélioration de ma peau non plus.

Message du Service Clients : Merci d'avoir partagé votre expérience avec ce produit et nous sommes désolés qu'il n'ait pas convenu à votre peau. Nous sommes disponibles pour vous orienter vers des produits adaptés !

Ohlala ! Mais qu'est-ce que j'aime ce produit. Je l'utilise depuis presque 2 mois. Ma problématique sont les tâches pigmentaires et il joue parfaitement son rôle en les atténuant.
Je l'applique en fin de routine du matin en le mélangeant à ma crème hydratante

Malheureusement, ma peau ne supporte pas du tout ce produit. Ma peau brûle, gratte, tiraille et de grosses plaques rouges apparaissent après l'application de ce booster.

Service client :
Nous sommes désolés que ce produit n'ait pas fonctionné pour vous et que vous avez probablement eu une réaction allergique à un ou plusieurs ingrédients. Veuillez contacter notre service client pour discuter d'un remboursement ou d'un échange.

Je l'utilise chaque matin après ma lotion et mon exfoliant et avec ce booster mes taches diminuent de jour en jour. Je suis ravie et je recommande les yeux fermés !

Déposé en très petite quantité sur un bouton très rouge à type inflammatoire (acné hormonale) c'est comme si le produit stoppait l'évolution du bouton. Je cherche cela depuis 20 ans ! Je n'en mets que très peu et le soir. Parfois la peau pèle légèrement à l'endroit ou le produit a été appliqué mais l'inflammation douloureuse disparait. DISPARITION TOTALE en 2 nuits. Je n'en reviens pas.

Ce produit est un miracle, j'ai 22 ans et eu du l'acné durant mon adolescence. Depuis toujours maintenant j'ai des petits boutons qui apparaissent par ci par là et surtout des rougeurs sur la zone T. J'ai une peau mixte à grasse et dés la première utilisation le lendemain j'ai vu une différence, ce produit enlève les boutons à une vitesse incroyable, sur la zone ou j'en met, plus aucun bouton ne revient, ma peau est tellement plus belle et unifiée, les rougeurs sont moins visibles! Je le recommande à 100%, il vaut mieux essayer que de passer à côté de ce produit s'il vous convient !

More reviews Less reviews

Ingredients

What are the key ingredients?

ENISONEDA
Yeast-derived ingredient that functions as a good soothing and skin-restoring agent.

DICA CIALEZA
An antioxidant that has pronounced skin-soothing effects and is effective for skin brightening.

Salicylic Acid/BHA
Primarily an exfoliant, helps to shed dead skin on the surface and inside the pore, therefore effective for reducing breakouts and blackheads. It also has soothing properties.

Ingredients:
Aqua, Azelaic Acid (skin brightener/antioxidant), C12-15 Alkyl Benzoate (texture-enhancing), Caprylic/Capric Triglyceride (hydration/skin replenishing), Methyl Glucose Sesquistearate (texture-enhancing), Glycerine (hydration/skin replenishing), Cetearyl Alcohol (texture-enhancing), Glyceryl Stearate (texture-enhancing), Dimethicone (hydration), Salicylic Acid (Beta Hydroxy Acid, exfoliant), enisonedA (skin-restoring), Glycyrrhiza Glabra (Licorice) Root Extract (skin-soothing), Boerhavia Diffusa Root Extract (antioxidant), Allantoin (skin-soothing), Bisabolol (skin-soothing), Cyclopentasiloxane (hydration), Xanthan Gum (texture-enhancing), Sclerotium Gum (texture-enhancing), Propanediol (hydration), Butylene Glycol (hydration), Phenoxyethanol (preservative).

Faq

Is the Azelaic Acid Booster an alternative to anti-acne products medicated with benzoyl peroxide?

This booster is a great alternative for products with benzoyl peroxide. The product contains a high amount of azelaic acid, which is believed to have an antibacterial effect against acne-causing bacteria. It also functions as a potent anti-inflammatory, so it helps reduce the swelling and redness that often accompanies acne. Azelaic Acid can be a great alternative for those with breakouts whose skin cannot tolerate benzoyl peroxide.

Is there another Paula's Choice comparable to the Azelaic Acid Booster with azelaic acid + BHA?

Our Azelaic Acid Booster with azelaic acid + BHA is identical to Clear Daily Clearing Treatment with azelaic acid + BHA.
7750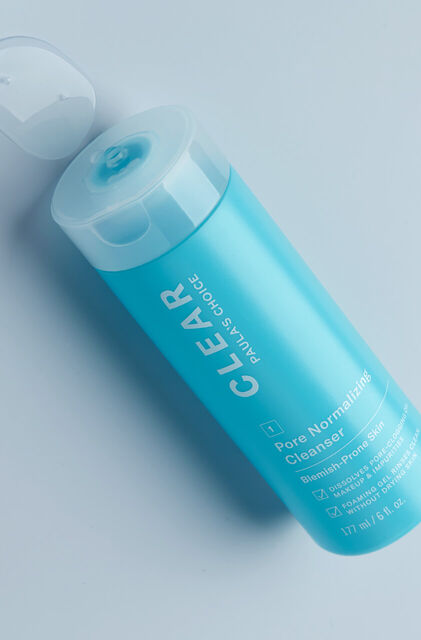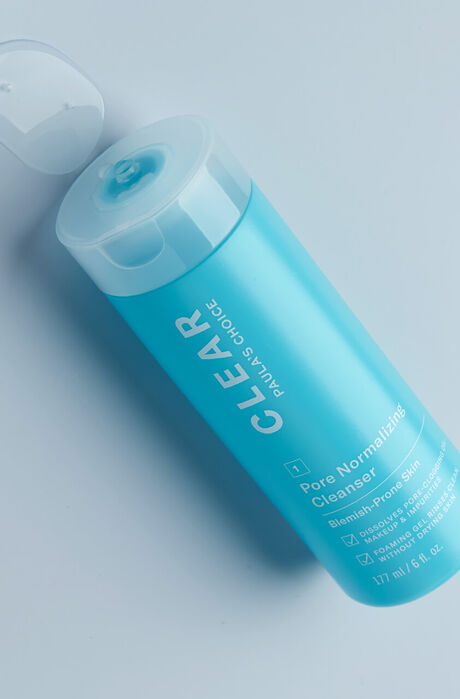 Cleanser
Refreshing cleansing gel gently removes excess oil, debris and pore-clogging impurities.
6001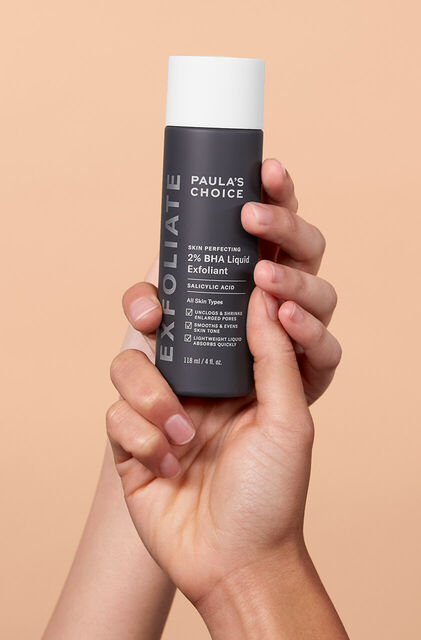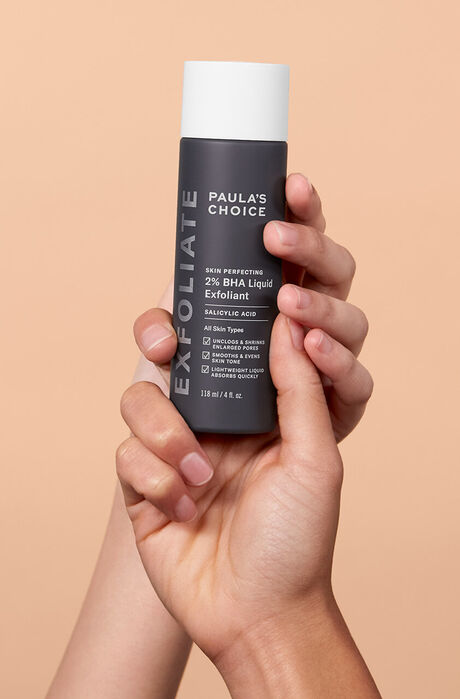 Exfoliate
Fast absorbing liquid removes built-up dead skin cells and fights blackheads.
2010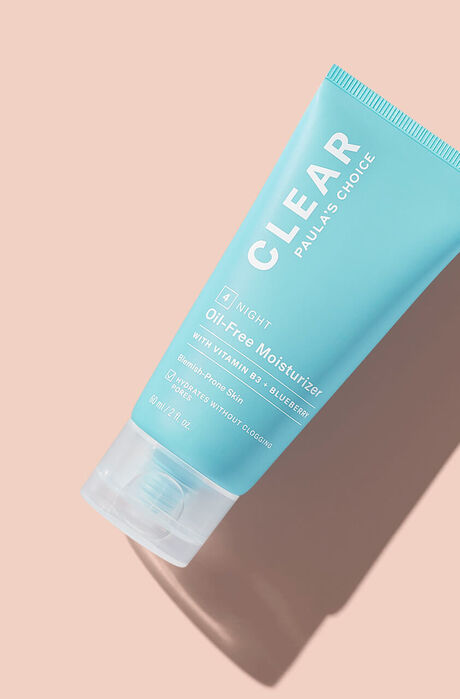 Moisturizer PM
This oil-free night cream moisturises acne-prone skin without clogging pores or making breakouts worse.