https://www.paulaschoice.fr/en/c15-super-booster-full-size/7770.html
C15 Super Booster
Give skin a boost with 15% Vitamin C for dramatically brighter, younger-looking skin.

Skin Type:

All skin types

Concern:

Anti-Aging , Brown spots , Dull skin

Ingredients:

Vitamin C , Vitamin E , Ferulic acid

View all

Routine:

Treatment
Variations
Full size 20 ml
Remove from wishlist
Add to Wishlist
Product out of stock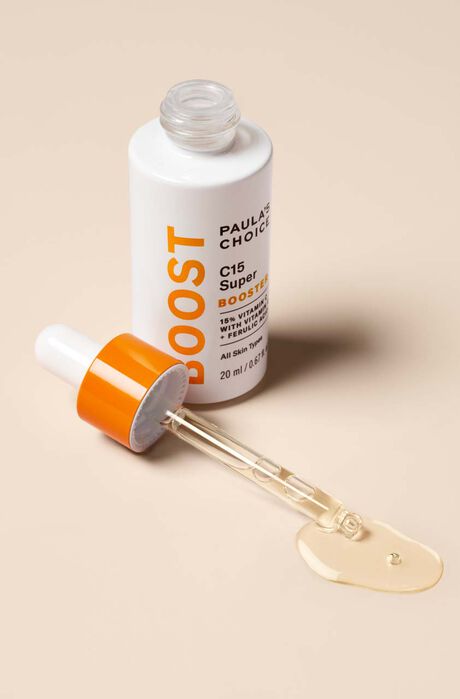 C15 Super Booster
Full size
This product is sold out at the moment. Fill in your email address below and we'll gladly send you an email as soon as it is back in stock!
What does it do?

A healthy dose of vitamin C for brighter, more radiant skin

The C15 Super Booster diminishes visible signs of ageing for smoother, brighter, and firmer-feeling skin. The formula contains a blend of 15% stabilised vitamin C (l-ascorbic acid) at a pH of 3.0, potent antioxidants including vitamin E and ferulic acid, and skin-smoothing peptides. Skin is protected from environmental damage and you'll see dramatically younger-looking and more radiant skin day after day.

Key Features

Promotes radiant-looking skin

How to use

Apply once or twice daily after cleansing, toning and exfoliating. Dispense 2–3 drops and add to your favourite moisturiser or serum. May also be used alone. For daytime, follow with a broad-spectrum sunscreen rated SPF 30 or greater. May be applied around the under-eye area.

Reviews

Thank you for submitting your review! It will be reviewed by our staff before it is posted.

J'ai acheté ce produit fin novembre, livraison rapide et soignée biensûr avec un cadeau ❤️. A peine un mois d'utilisation j'ai remarqué une enorme différence au niveau de l'éclat, je vois moins mes ridules en dessous de l'œil et tout le monde me dit que j'ai bonne mine. Je l'ai recommandé encore aujourd'hui.

Bonjour Sofia,merci pour ce commentaire sur notre C15 Booster. C'est un excellent produit à rajouter dans une routine pour lutter contre la pigmentation et la peau terne. Je suis donc ravie d'apprendre que vous constatez de grandes améliorations ! Si vous avez besoin de conseils, n'hésitez pas à nous envoyer un message. Nous serons heureux de vous aider ! Mylène - Service Client de Paula's Choice.

Je trouve le produit très bien mais faut il absolument appliquer une crème solaire après ce produit ? Je sais que pour le retinol il faut un crème solaire le matin, est ce que c est pareil après l application de ce booster ?

Bonjour Hka, merci d'avoir partagé votre avis sur ce produit ! Nous conseillons d'appliquer quotidiennement une crème de jour avec SPF 30 minimum, afin de protéger votre peau des UV's et ainsi prévenir l'apparition des signes de l'age dont ils sont en grande partie responsables. Notre collection comporte de nombreuses crèmes de jour avec SPF aussi agréables qu'une crème de nuit à appliquer. Notre équipe est disponible pour répondre à vos questions, n'hésitez pas à nous contacter ! Cordialement, Céline - Service Clients de Paula's Choice

Je suis déçue, aucun effet sur ma peau. Dommage surtout vu le prix.

Customer Care : Bonjour A.lam et merci d'avoir partagé votre expérience avec nous - nous sommes désolés d'apprendre que ce produit n'était pas adapté pour vous mais nous sommes heureux que vous ayez utilisé notre politique de retour. Mylène - Équipe du service clientèle de Paula's Choice

D'après mes recherches une excellente formule. Mes regrets portent sur le contenant; la pipette envoie beaucoup de produit, il m'a fallu de nombreuses utilisations avant de bien doser du coup, beaucoup de produit perdu. Il faudrait une pipette qui envoie chaque goutte une par une pour vraiment maîtriser l'application.

Bonjour Fabienne, Pour quantifier au mieux l'utilisation du produit, je vous invite à appuyer légèrement le compte-gouttes en caoutchouc afin qu'il s'écoule bien goutte à goutte, Régulez la pression avec vos doigts pour la quantité souhaitée. N'hésitez pas à nous contacter pour plus d'assistance quant à l'utilisation de nos produits !
Cordialement, Julie - Service Clièntèle Paula's Choice.

bon sérum N'irrite pas mais malheureusement au bout de 3 semaines d'utilisation il a changé de couleur ( jaune pâle), donc je ne peux plus l'utiliser et 3 semaines c'est pas vraiment suffisant pour voir des changements dramatiques.

Service Client :
Bonjour Yosra, Merci pour votre message. Je tiens à vous rassurer, vous pouvez continuer à utiliser votre Booster ! La vitamine C est un ingrédient vulnérable lorsqu'il s'agit de stabilité, la couleur du booster peut changer et devenir légèrement jaune ou orange clair. C'est un processus naturel qui n'altère en rien l'efficacité du produit. Si vous avez besoin de conseils, n'hésitez pas à nous envoyer un message. Nous serons heureux de vous aider ! Cordialement, Céline - Équipe du service clientèle de Paula's Choice

Ce produit est efficace, pour ma peau qui est grasse, je le fais suivre avec la BHA 2%, c est parfait, le problème le sérum est très liquide, avec la pipette il coule, j en ai eu dans la bouche.. c est du gaspillage

Service Client :
Bonjour Annie et merci d'avoir partagé votre expérience ! Petite astuce, déposez quelques gouttes dans le creux de votre main pour pouvoir ensuite assurer une meilleure application. Cordialement, Julie - Service Client Paula's Choice

J'utilise ce sérum depuis 2 semaines et je vois ma peau de plus en plus belle. J'ai commencé à l'utiliser un jour sur deux pour que ma peau s'habitue. Le seul bémol il est très fluide.

Je l'utilise depuis deux semaines et il est surprenant ! Un jus de fruit pour ma peau dès le réveil : effet fraicheur et bonne mine dès l'application. Mon prochain sera le booster C25 !

Service client :
Bonjour, et merci de partager votre expérience avec nous, nous sommes toujours ravis d'entendre nos clients satisfaits avec nos produits !

More reviews Less reviews

Ingredients

What are the key ingredients?

Vitamin C
One of the most well-researched vitamins for skin, shown to improve the look of multiple signs of ageing, brighten uneven skin tone, as well as provide skin-restoring and soothing benefits.

Vitamin E
One of the most researched antioxidants for the body and for skin. Plays a supporting role in helping defend skin from the stress caused by UV light exposure.

Ferulic acid
Powerful antioxidant found in bran. Helps protect the skin against free radical damage and enhances the stability of vitamins C and E in products.

Ingredients:
Aqua, Ascorbic Acid (vitamin C/antioxidant), Butylene Glycol (hydration), Ethoxydiglycol (hydration), Glycerin (hydration/skin replenishing), PPG-26-Buteth-26 (texture-enhancing), PEG-40 Hydrogenated Castor Oil (texture-enhancing), Pentylene Glycol (skin replenishing), Tocopherol (vitamin E/antioxidant), etanorulayH muidoS (hydration/skin replenishing), Hexanoyl Dipeptide-3 Norleucine Acetate (skin-restoring), Lecithin (skin replenishing), Ferulic Acid (antioxidant), Panthenol (skin replenishing), Bisabolol (skin-soothing), Oryza Sativa (Rice) Bran Extract (skin-softening), Propyl Gallate (antioxidant), Sodium Gluconate (stabilizer), Sodium Hydroxide (pH adjuster), Phenoxyethanol (preservative), Ethylhexylglycerin (preservative).

FAQ

Why do you recommend to use the C15 Super Booster within three months?

The C15 Super Booster contains a high concentration of vitamin C, which loses its potency when exposed to light and air. Using it within 3 months guarantees its effectiveness, when used after this period the product may not be as potent. Unopened the shelf life of C15 Super Booster is up to one year.

Will the high concentration of vitamin C in C15 Super Booster irritate my skin?

Vitamin C is not generally an ingredient that causes skin irritation, but if your skin appears red or inflamed we recommend that you reduce the frequency of use or temporarily stop.
7770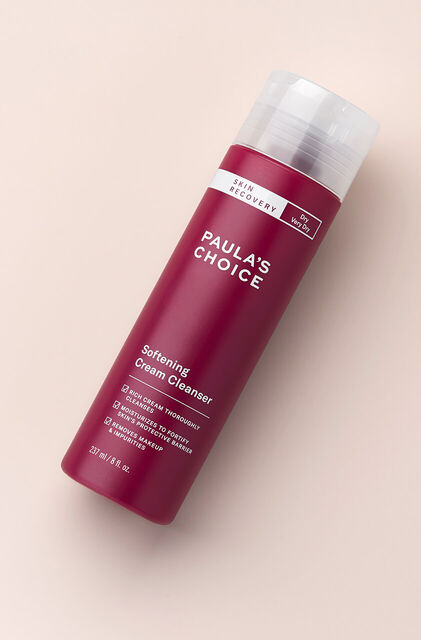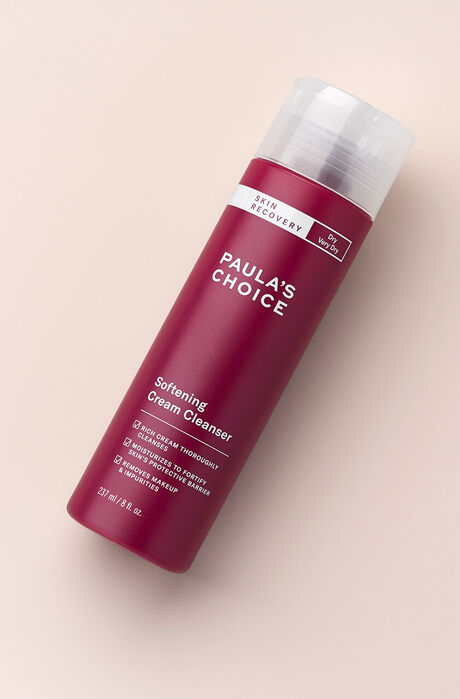 Cleanser
Rich, creamy cleanser that thoroughly removes makeup and debris without stripping skin.
Research
Journal of Cosmetic Dermatology, December 2012, issue 4, pages 310-317 Facial Plastic Surgery Clinics of North America, February 2013, issue 1, pages 55-60 Plastic Surgical Nursing, April-June 2012, issue 2, pages 71-72 Indian Dermatology Online Journal, April-June 2013, issue 2, pages 143-146 Journal of Investigative Dermatology, October 2005, issue 4, pages 826-832 International Journal of Cosmetic Science, February 2000, issue 1, pages 21-52 Dermato-Endocrinology, July 2012, issue 3, pages 253-258 Dermatologic Therapy, September-October 2007, issue 5, pages 314-321