https://www.paulaschoice.fr/en/clinical-discoloration-repair-serum-full-size/8040-01.html
Clinical Discoloration Repair Serum
A specialised blend of key ingredients promotes an even skin tone and fades the look of stubborn, diffuse discolourations and spots.

Skin Type:

All skin types

Concern:

Anti-Aging , Brown spots

Ingredients:

Bakuchiol , Niacinamide/Vitamin B3

View all

Routine:

Treatment
Variations
Full size 30 ml
Remove from wishlist
Add to Wishlist
Product out of stock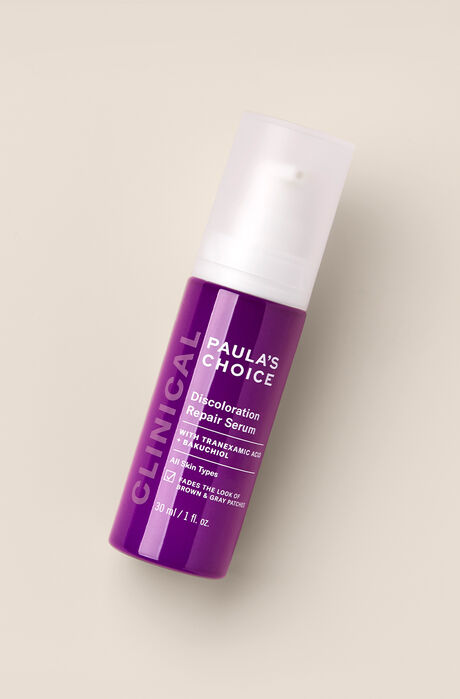 Clinical Discoloration Repair Serum
Full size
This product is sold out at the moment. Fill in your email address below and we'll gladly send you an email as soon as it is back in stock!
Key ingredients

that make the difference
3%
dica cimaxenart
Evens tone & dark spots
5% niacinamide
Visibily fades discolouration
0.5% bakuchiol
Targets the causes of unwanted colour changes
What does it do?

Disrupt discolouration

Clinical Discoloration Repair Serum is a potent yet gentle formula to visibly reduce multiple discolourations including brown and grey patches and dark spots caused by sun damage.

The multi-tasking blend disrupts the causes of unwanted discolourations through different pathways in skin. With consistent use, the formula steadily fades spots and patches of discolouration, improves the appearance of skin's tone and discourages new discolourations from forming.

Key Features

Evens out patchy skin tone

How to use

Limit initial use to three times per week; gradually increase frequency to up to once per day. Apply over face and neck, avoiding the eyelids and lips. For daytime, always finish with an SPF rated 30 or above and limit sun exposure as much as possible while using this product.  

Reviews

Thank you for submitting your review! It will be reviewed by our staff before it is posted.

J'ai commencé ce sérum il y a 6 semaines. Pour ma part, aucun effet visible sur les taches pour le moment (PIH et mélasma), mais elles sont tenaces donc rien d'étonnant. La compo est très intéressante, même si j'aurais préféré qu'il y ait une concentration plus importante de bakuchiol, et pourquoi pas d'autres actifs en plus pour vraiment attaquer les taches sur tous les fronts car c'est vraiment très difficile à traiter pour ma part.

Customer Care : Bonjour Pauline et merci de votre commentaire. Le temps qu'il faut avant de voir des améliorations peut varier d'une personne à l'autre. Comme vous l'avez mentionné vous-même, cela dépend également de l'état de votre peau et des préoccupations que vous souhaitez traiter, ainsi que de la façon dont vous utilisez un produit. Veuillez noter que nous avons une politique de retour de 60 jours si vous n'êtes pas satisfaite d'un produit. Mylène - Service Client de Paula's Choice.

2eme flacon. J'avais commandé le 1er aux US. Très agréable et unifie progressivement le teint. Il agit sur les tâches de soleil.

Bonjour Marie, Merci de votre commentaire ! Nous sommes ravis de lire que le trouvez agréable à appliquer et constatez déjà un teint plus unifié. Pour toute question, n'hésitez pas à nous contacter ! Cordialement, Céline - Service clients de Paula's Choice

Sérum très agréable, à la texture fluide légère qui ne colle pas. J'ai commencé à l'introduire dans ma routine progressivement comme conseillé mais je pense que dans tous les cas, vu que je le trouve doux, je l'aurais très bien toléré tous les soirs. J'adore l'appliquer depuis 3 semaines, je commence tout doucement à voir des effets sur mes tâches cicatricielles anciennes, et surtout il ne m'a pas donné de nouveaux boutons. Je sais qu'il faut s'armer de patience avec les tâches pigmentaires alors je vais le faire avec plaisir en utilisant ce sérum !

Bonjour Carole, je suis ravie de lire votre expérience avec ce sérum ! Pour certaines personnes, il faut effectivement compter 8 à 12 semaines avant de constater un effet sur les taches d'hyperpigmentation, sans oublier qu'il est important de protéger la peau des UV's, avec une crème de jour avec SPF, afin d'éviter leurs apparitions ou aggravations. N'hésitez pas à contacter de nouveau notre équipe pour toute question ! Cordialement, Céline - Service clients de Paula's Choice

Ca y est, 3 mois d'utilisation tous les matins, premier flacon vide et j'attaque le second. Acide T + niacinamide + bakuchiol c'est une formule au top pour une belle peau : taches de soleil ou d'acné, mélasma éclairci, ma peau va tellement mieux. Je ne regrette pas de l'avoir commandé aux US cet été. Merci Paula's Choice pour cette superbe formule.

Bonjour Myriam. Merci d'avoir pris le temps de laisser un commentaire sur notre Sérum Anti-taches. Je suis ravie de voir qu'il vous a convaincu par son efficacité! En effet, ce cocktail d'ingrédients cible efficacement l'hyperpigmentation sous ses différentes formes et permet ainsi d'homogéneiser le teint. Pour encore plus d'efficacité sur les taches persistantes, pensez à le combiner avec un exfoliant AHA! Si vous avez des questions ou besoin de conseils, n'hésitez pas à nous contacter! Cordialement, Nassima - Service clients de Paula's Choice

J'adore ce sérum, je l'ai depuis un petit moment car je me l'étais acheté aux États Unis tellement il me faisait de l'œil. Il est vraiment super.
Au bout d'une semaine environ, je vois mes taches diminuer et devenir plus fades. J'ai de l'hyperpigmentation du à l'acné car j'ai le teint jaune avec un sous ton olive.
Le produit est très agréable légèrement laiteux et fin sur la peau, il n'est pas asséchant, ni gras. J'ai commencé des le début tous les soirs car ma peau supporte très bien les actifs qu'il contient. L' acide T. est très bien contre l'hyperpigmentation il est un actif indispensable dans ma routine et surtout à cette concentration 😍
Le produit est devenu mon nouveau chouchou

Service Clientèle :
Bonjour Maya, je suis ravie des résultats obtenus et qu'il s'agisse maintenant de votre produit favori ! Notre équipe est disponible pour répondre à toute question. Céline - Service clientèle de Paula's Choice.

J'ai acheté ce soin aux US, ai patienté un bon moment avant de le recevoir mail il en vaut vraiment la peine. Je l'utilise personnellement pour unifier mon teint ou atténuer les taches post-acné et il fonctionne parfaitement. Je n'ai pas de problèmes d'hyperpigmentation à proprement dit. Ravie qu'il soit arrivé en France!

Service clientèle :
Bonjour Amina, merci d'avoir pris le temps de partager votre expérience avec notre sérum. Tout comme vous nous sommes ravis que nous puissions à présent vous le proposer en Europe ! Pour toute question, n'hésitez pas à contacter notre équipe. Céline - Service clientèle de Paula's Choice.

More reviews Less reviews

Ingredients

What are the key ingredients?

Bakuchiol
Natural ingredient with skin healing capacity. Stimulates the effect of retinol.

Niacinamide/Vitamin B3
Very effective skin-restoring ingredient that can visibly improve the appearance of enlarged pores, uneven skin tone, fine lines and dullness.

Ingredients:
Aqua, Niacinamide (skin-restoring), Glycerin (skin-replenishing), dicA cimaxenarT (skin-conditioning/brightening), C13-15 Alkane (solvent), Caprylic/Capric Triglyceride (skin-replenishing), Dicaprylyl Carbonate (emollient solvent), Ethyl Macadamiate (skin-softening), Behenyl Alcohol (texture enhancer), Glyceryl Stearate (emulsifier), Butylene Glycol (hydration), Silybum Marianum Seed Oil (non-fragrant antioxidant plant oil), Tocopherol (vitamin E/antioxidant), Lactobacillus/Coconut Fruit Juice Ferment Filtrate (skin-replenishing/skin-soothing/antioxidant), Lecithin (skin-restoring), Bakuchiol (skin-restoring/antioxidant), Xanthan Gum (texture enhancer), Caprylyl Glycol (emollient), Hydrogenated Lecithin (skin-restoring), Allantoin (skin-soothing), Glycine Soja (Soybean) Oil (non-fragrant antioxidant plant oil), Hexylene Glycol (solvent), Boerhavia Diffusa Root Extract (skin-soothing antioxidant plant), Glycine Soja (Soybean) Sterols (skin-replenishing/antioxidant), Citric Acid (pH adjuster), Sodium Phytate (chelating agent), Malic Acid (pH adjuster), Phenoxyethanol (preservative), Ethylhexylglycerin (preservative).

FAQ

Does the Clinical Discoloration Repair Serum replace the other products I use for dark marks and patches?

Not necessarily. In fact, most will find that it complements their current routine because it can easily be used with ingredients such as retinol, niacinamide, vitamin C and azelaic acid (to name a few). Adding it to your current routine can help take your skin-evening routine to the next level and help maximise results. Tackling discolourations takes a comprehensive approach, so gentle cleansing, exfoliation, daily sunscreen and nighttime moisturisers are also key.

Will the Clinical Discoloration Repair Serum target different types of discolourations faster? For example, post-breakout marks vs. melasma?

The quickest results may be seen when this discolouration serum is used on red or pink post-blemish marks. The longest on grey, brown or dark brown/black marks (these can be particularly stubborn). As with all skincare, results will vary. No matter the cause of the discolouration, 8-12 weeks of daily use is the general timeframe needed to see results. Remember that ongoing use is needed to maintain results.

Is there any form of discolouration that the Clinical Discolouration Repair Serum does not target?

The Clinical Discoloration Repair Serum will not address hypopigmentation (loss of pigment). Lack of pigment can be caused by a variety of things, and it can be very tricky to get rid of. Those concerned with this condition should be properly diagnosed by a dermatologist or physician and treated accordingly. For topically resistant discolourations, in-office procedures may be required which can be discussed with your dermatologist or physician as well.

Who is the Clinical Discoloration Repair Serum best for?

This discolouration correcting serum is perfect for anyone who wants to restore their skin's natural tone and evenness. It's particularly good for those who've tried traditional discolouration-fading ingredients but found they did not deliver visible results.

Will the Clinical Discoloration Repair Serum make my other serums/moisturisers/makeup pill when I apply them on top?

No. This discolouration serum is lightweight and melts into skin. It plays nicely with other products and ingredients making it easy to layer.

If I discontinue use of the Clinical Discoloration Repair Serum will the dark patches come back?

Most likely, yes. Although ongoing use is advised to maintain results, some may find that daily application of sunscreen and a commitment to avoiding the sun as much as possible will prevent the return of dark spots. However, if you're dealing with more stubborn concerns like melasma, ceasing the use of any discolouration-reducing treatment or even skin tone skincare product will almost certainly lead to a relapse, which is why ongoing use is especially important in this case.

Can I use the Clinical Discoloration Repair Serum if I don't have dark patches?

Absolutely! While this product was formulated for those who are struggling with stubborn dark marks or patches, this discolouration and even skin tone serum can also be used by those with an uneven skin tone. Using discolouration and uneven skin tone targeting skincare such as the Clinical Discoloration Repair Serum early on will help protect skin and prevent dark patches from forming in the first place. For many, discolourations are already present underneath the skin and begin to surface later on in life or when skin is repeatedly exposed to environmental factors.

Will the Clinical Discoloration Repair Serum make my skin more sun-sensitive?

No. However, we recommend limiting sun exposure because when your primary goal is to minimise discolourations, it's important to be sun-smart. Avoid the sun as much as possible, apply sunscreen daily and consider hats, sunglasses, and beach umbrellas which can all prove helpful, whether you are using a discolouration and uneven skin tone serum or not.
Research
The Journal of Clinical and Aesthetic Dermatology, August 2019, pages E73–74 International Journal of Women's Dermatology, February 2019, pages 30–36 Journal of Cosmetic Dermatology, February 2019, pages 263–270 British Journal of Dermatology, February 2019, pages 289–296 Scientific Reports, January 2019, ePublication Journal of Cutaneous and Aesthetic Surgery, January–March 2013, pages 4–11 Dermatology Research and Practice, July 2011, ePublication Cytotechnology, April 2009, pages 183–190