https://www.paulaschoice.fr/en/niacinamide-treatment-8030.html
Clinical Niacinamide 20% Treatment
A highly concentrated niacinamide treatment that effectively tightens and minimises the look of sagging pores and rough bumps caused by age or sun damage.

Skin Type:

All skin types

Concern:

Anti-Aging , Brown spots , Enlarged pores

Ingredients:

Niacinamide/Vitamin B3 , Vitamin C , Acetyl glucosamine

View all
Remove from wishlist
Add to Wishlist
Variations
Full size 20 ml
Product out of stock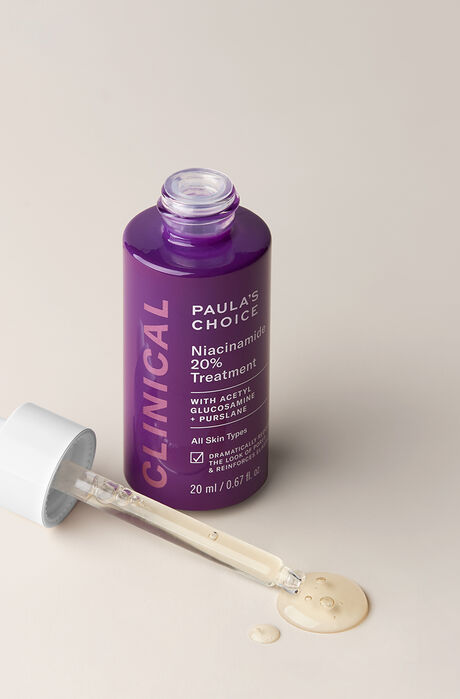 Clinical Niacinamide 20% Treatment
Full size
This product is sold out at the moment. Fill in your email address below and we'll gladly send you an email as soon as it is back in stock!
60 day money-back guarantee
Safe payments
What does it do?

Next-level pore minimising

This innovative treatment is our first ever to contain niacinamide at a safe, effective 20% concentration. The advanced formula effectively minimises the look of stretched pores, orange-peel texture and clogged bumps to reveal a smoother, brighter, more refined appearance.

The Clinical Niacinamide 20% Treatment has a liquid-gel texture and is suitable for all skin types, but has been especially formulated for those with stubborn concerns surrounding pore size, pore function and rough texture as a result of ageing and sun damage.

Which niacinamide product is right for you?

10% Niacinamide Booster

Targets:
Enlarged pores
Post-breakout marks
Uneven texture

Clinical Niacinamide 20% Treatment

Targets:
Stretched, sagging pores
Orange-peel texture
Stubborn oil-related bumps

Key Features

Visibly reduces enlarged pores

How to use

Apply a few drops once per day after cleansing, toning and exfoliating. For evening use, layer with other treatment products as needed and follow with your moisturiser. For daytime use, finish with a sunscreen rated SPF 30 or above.

Reviews

Thank you for submitting your review! It will be reviewed by our staff before it is posted.

J'étais super contente à l'idée d'utiliser ce produit que j'avais vu que des bons retour mais malheureusement pour moi ça n'a pas fonctionné il m'a brûler la peau du coup je me dis que je suis peut-être mieux à tester le 10 % sachant que j'avais déjà utiliser un produit à 5 % qui n'était pas de cette marque et qui avait bien fonctionné donc ma peau était quand même habitué !

Service client : Bonjour Coralie et merci d'avoir partagé votre expérience avec nous - nous sommes désolés d'apprendre que ce produit n'était pas adapté pour vous mais nous sommes heureux que vous ayez utilisé notre politique de retour. Chaleureuses salutations, Mylène - Équipe du service clientèle de Paula's Choice

Entièrement satisfaite de ce produit. J ai une peau sensible réactive et à tendance grasse sr la zone T. J ai dc la peau fine si ce nest au niveau du front un peu plus épaisse avec qq irrégularités et pores dilatés. J ai aussi une rosacee (blonde, peau claire, teint rosé, yeux clairs). J ai utilisé le produit 2 premiers soirs d affilée et beaucoup de petits boutons sont apparus… j ai attendu une semaine avant de pouvoir le réutiliser car je ne voulais pas plus agresser ma peau et depuis je peux l utiliser matin et ou soir en tt premier soin et honnêtement je suis bluffee par son effet car mon front a énormément changé les pores ne sont plus visibles du tt c est la premiere fois qu un produit fait autant d effet a ma peau! Quant a ma rosacee j ai l impression que mon teint est plus homogène…. Hate de voir ds qq semaines encore! Je recommande vivement !

Service client : Bonjour Aude, merci pour votre commentaire ! Nous sommes heureux de lire que la taille de vos pores ont diminué grâce à Clinical Traitement 20% Niacinamide. Nous serions ravis de vous accueillir à nouveau dans notre boutique en ligne. Mylène - Service clientèle de Paula's Choice.

Produit parfait pour flouter les pores apparents.
Très satisfaite de cet achat.
Ma beau est plus jolie.
Produit intégré à ma routine.

Produit très efficace, peau très hydratée en 1 minute, on voit la différence aussitôt, incroyable, j'adore, tout le monde le félicite, en seulement 10 jours , un trésor

Grain de peau plus lumineux, pores invisibles, on me complimente pour ma peau qui est plus rebondie , je mets aussi retinol 1 pour cent de la même marque,

J'aime beaucoup la niacinamide 20%, j'aime la texture, l'effet que ça fait sur ma peau, je vois une différence et on me l'a fait remarquer.
J'avais testé la niacinamide 10% elle était pour moi trop liquide, mais la 20% au top du top.

Bonjour Kertoum, merci pour votre commentaire ! Nous sommes heureux de lire que notre Clinical Traitement 20% Niacinamide vous procure de tels résultats. Nous serions ravis de vous accueillir à nouveau dans notre boutique en ligne. - Julie, du Service clientèle de Paula's Choice.

Je suis plus que satisfaite ma peau n'a jamais était aussi belle je ne peux plus m'en passer.

Mon indispensable ! J'avais une peau clairement granuleuse et avec des imperfections. C'est seulement avec ce produit que j'ai vu la différence. On me fait même des compliments sur ma peau. Texture étonnante mais pas désagréable du tout ! Je le recommande à toutes mes copines

J'avais déjà acheté le 10% qui m'avait beaucoup plu et me suis décidée à essayer le 20%. La texture est légèrement moins fluide que le 10%. Très agréable à l'application, vite absorbé, ma peau est littéralement transformée. Je ne peux plus m'en passer.

More reviews Less reviews

Ingredients

What are the key ingredients?

Niacinamide/Vitamin B3
Very effective skin-restoring ingredient that can visibly improve the appearance of enlarged pores, uneven skin tone, fine lines and dullness.

Vitamin C
One of the most well-researched vitamins for skin, shown to improve the look of multiple signs of ageing, brighten uneven skin tone, as well as provide skin-restoring and soothing benefits.

Acetyl glucosamine
Skin-replenishing ingredient that can do a lot for diminishing signs of ageing. It can have skin-brightening benefits, particularly when combined with niacinamide.

Ingredients:
Aqua, Niacinamide (skin-restoring/skin-replenishing), Pentylene Glycol (solvent/texture enhancer), Butylene Glycol (slip agent/hydration), Glycerin (skin-replenishing), Acetyl Glucosamine (skin-replenishing), Ascorbyl Glucoside (vitamin C/antioxidant), Glycyrrhiza Glabra (Licorice) Root Extract (skin-soothing/antioxidant), Spiraea Ulmaria (Meadowsweet) Extract (antioxidant), Portulaca Oleracea (Purslane) Extract (antioxidant), Camellia Japonica Flower Extract (antioxidant), Epigallocatechin Gallate (green tea-derived antioxidant), Boerhavia Diffusa Root Extract (skin-soothing), Camellia Sinensis (Green Tea) Leaf Extract (antioxidant), Allantoin (skin-soothing), Lecithin (skin-replenishing), Pullulan (texture enhancer), Panthenol (hydration), Silica (absorbent), Xanthan Gum (thickener), Sclerotium Gum (thickener), Propanediol (hydration), Sodium Phytate (chelating agent), Phenoxyethanol (preservative), Ethylhexylglycerin (preservative)

Faq

Why did Paula's Choice formulate another niacinamide product?

The Clinical Niacinamide 20% Treatment was the brainchild of Paula herself. Having experienced such great results with the 10% Niacinamide Booster, she wanted to see if doubling the percentage would give her even better results on her most stubborn concerns (clogged pores and sebaceous hyperplasia). The results exceeded expectations and the rest is history. Along with niacinamide, Paula and team added some key supporting ingredients that really make this product a standout for anyone wanting to tackle large pores, rough bumpy texture and uneven skin tone.

How is the Clinical Niacinamide 20% Treatment different from the 10% Niacinamide Booster?

Most notably, it contains twice the amount of niacinamide and is delivered in a gel texture vs. a liquid. Additionally, it includes a variety of supporting ingredients such as meadowsweet, purslane and camellia japonica to help reduce excess oil and offset collagen-degrading enzymes that can lead to stubborn, enlarged pores.

Should customers use the 10% Niacinamide Booster, the Clinical Niacinamide 20% Treatment or both?

It depends on the severity of their primary concerns. If they have more advanced concerns such as stretched, sagging pores, orange peel-like texture, or stubborn oil-related bumps, the 20% strength is a great option. If their concerns are mostly around enlarged pores and uneven skin tone, the 10% strength will meet their needs. Customers can also alternate the two at a cadence that works best for them (this may take some experimenting).

Why is the 20% Niacinamide a part of the Clinical line vs. Boosters?

Clinical is all about advanced solutions which makes it the perfect collection for this new, potent treatment. As an intensive results-oriented product, the Clinical Niacinamide 20% Treatment was specifically formulated to tackle complex skincare concerns for those who find the 10% Niacinamide Booster isn't quite enough. All Clinical products are formulated to mix into a multitude of routines, giving customers just the right dose they need to target their specific concerns.