https://www.paulaschoice.fr/en/skin-perfecting-bha-liquid-exfoliant-full-size-2010.html
Skin Perfecting 2% BHA Liquid Exfoliant
Fast absorbing liquid removes built-up dead skin cells and fights blackheads.

Skin Type:

Combination skin, Oily skin

Concern:

Breakouts , Blackheads , Enlarged pores , Redness

Ingredients:

Salicylic Acid/BHA , Green Tea Extract , Methylpropanediol

View all

Routine:

Exfoliate
Remove from wishlist
Add to Wishlist
Product out of stock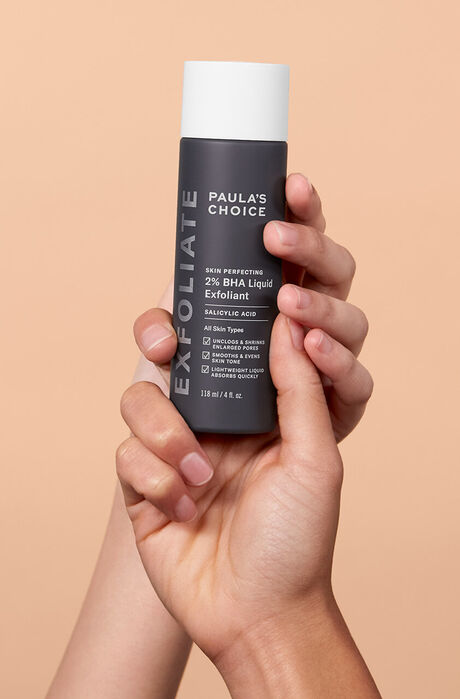 Skin Perfecting 2% BHA Liquid Exfoliant
Full size
This product is sold out at the moment. Fill in your email address below and we'll gladly send you an email as soon as it is back in stock!
60 day money-back guarantee
Safe payments
What does it do?

Our No.1 bestselling exfoliant around the world.

Reveal flawless skin with our bestselling leave-on exfoliant. This gentle, lightweight fluid quickly exfoliates dead skin cells both on the surface and deep inside pores to reveal smoother, clearer, more radiant-looking skin. BHA (salicylic acid) has anti-inflammatory properties and helps to reduce blackheads, blemishes and redness.

Key Features

Fights breakouts and blackheads

Fast-absorbing liquid formula

Removes built-up dead skin cells

How to use

Lightly soak a cotton pad and gently apply over the entire face and neck, including the eye area (avoid lash line and eyelids). Do not rinse. At first, apply every other day and note skin's response. Then use up to twice daily. For daytime, follow with a broad-spectrum sunscreen rated SPF 30 or greater.

Reviews

Thank you for submitting your review! It will be reviewed by our staff before it is posted.

Produit très efficace : grain de peau amélioré et imperfections envolées

Après plusieurs soir d'utilisation de suite j'avais l'impression que mes pores étaient flouté sur les endroits que je ciblais. Très efficace.

Très bon produit que j' utilise principalement sur les bras ayant de la kératose pilaire, et depuis son utilisation je n' ai plus aucun problème. Je l'utilise conjointement à la crème au rétinol pour le corps. Beaucoup plus efficace que les produits de la pharmacie pour ce type de problème. Je l'utilise aussi de temps en temps sur le visage (front, nez, menton)

Très satisfait du produit ! La peau grasse brille beaucoup moins, effet « peau nette » assez rapide après le début de son utilisation ! Je l'applique tous les matins. Léger picotement lors de son application mais qui s'estompe très vite. Je comprends pourquoi ce produit est un best seller, il fait ses preuves !

Juste ce qu'il me fallait mes boutons réduits de jour en jour, il fait bien son travail, facile à utiliser mais pique un peu tout de même c'est la raison pour laquelle j'ai pas pas mis 5 étoiles.

j adore ce produit ma peau est radieuse depuis que je l utilise ma peau est douce, lisse , et moins de points noirs

Produit ouf, je l'utilise comme il le conseil tout les deux jours au début puis tout les jours et franchement je vois les résultats. Pas asséchant, lorsque que les règles sont finis j'ai tjrs des boutons vers le menton/bouche et j'applique ce produit et il disparaisse dès le lendemain je suis trop HAPPY je le combine avec le boost (petit tube vert) jadooooore

Ravie par ce produit qui après une semaine d'utilisation me donne une peau plus lumineuse et un grain de peau plus fin. Je l'utilise le soir uniquement avec la crème de nuit et pour le moment c'est suffisant pour éviter un effet trop asséchant.

J'ai 35 ans, peau mixte et déshydratée, inconfort et tiraillements, je me suis battue toute ma vie avec ma peau, pores dilatés et brillance étaient mes principaux soucis. Chaque semaine ma routine était parfaite, gommage masque hydratant, demaquillee chaque soir etc et malgré tout une peau inconfortable qui desquame tout le temps... j'utilise depuis peu cet exfoliant avec le booster niacinamide et je n'en reviens pas, pores resserrés, presque plus de brillance, plus de desquamation ni de tiraillements, un maquillage qui tient beaucoup mieux! Je suis ravie et vais devenir une cliente régulière! Je tenais à mettre un avis ce que je ne fais jamais car ils le méritent, le SAV est super, ils sont pros et présents pour répondre aux questions avec précisions. J'espère qu'ils continueront comme ça. Oui il faut mettre un peu le prix mais vus tout ce que g acheté dans le passé de la marque supermarché à la marque de luxe, ça vaut le coup car ça marche! Pour ne pas vous tromper, je vous conseille de leur écrire avant et de leur décrire exactement vos problèmes de peau.

J'adore cet exfoliant. Je l'utilise chaque matin après avoir nettoyé ma peau depuis plus de 6 mois maintenant. Mon teint est plus lumineux, plus uniforme. Il élimine bien les impuretés, j'ai beaucoup moins de points noirs notamment sur le nez. Je note qu'il contribue également à atténuer les tâches pigmentaires (j'ai tout un arsenal pour ça). Je le tolère très bien mais en même temps ma peau du visage encaisse tout sans broncher

J'ai acheté ce produit, il y a un peu plus d'un mois maintenant et les résultats de ce produit sont incroyables, mon acné et mes cicatrices ont disparus ! Mes pores sont resserrés et ma peau est plus douce et lisse qu'avant. Mon teint est éclatant et mes rougeurs se sont beaucoup atténuées (j'ai une peau sèche et ce produit ne l'assèche pas du tout). Le produit ne pique pas du tout et il n'a pas d'odeur particulière, il faut en appliquer peu ce qui est rentable sur le long terme.

Après deux semaines d'utilisation, je constate que ma peau est plus glowy et plus douce au toucher. Je sens qu'elle exfolie bien mais trop tôt pour dire si elle prévient boutons et points noirs. Je recommande quand même.

Mon ado l'utilise tous les jours : matin et soir avant sa crème hydratante. Cette lotion est top car elle traite rapidement les boutons et n'irrite pas la peau.

Curiosité oblige due à sa popularité, j ai décidé de l offrir à ma fille de 15ans qui manifestait de plus en plus de points noirs et de boutons. Et effectivement cela marche : sa peau est moins boutonneuse et plus nette (les points noirs sont moins visibles). Alors, maintenant c est à moi d essayer les produits de Paula's choise avec les soins anti age.

C'est devenu un indispensable pour moi. J'ai testé la version mini qui m'a duré bien 3mois et là je viens de recevoir la version grande. Vu la quantité c'est un excellant rapport qualité-prix.
L'état de ma peau s'est amélioré progressivement. J'ai une peau très épaisse et acnéique. Je l'ai utilisé d'abord un jour sur deux mais maintenant je l'utilise tout les soir. Le matin ma peau est douce et soyeuse !

J'utilise ce produit depuis 1 mois et il est très efficace. ma peau est moins grasse et bien plus lisse, mes petits boutons ont disparu !

Améliore nettement la texture de la peau. Mais n'empêche pas l'apparition de nouveaux boutons ou points noirs.

Très efficace pour faire disparaître rapidement les boutons installés ou empêcher leur apparition. Il en faut très peu. Employé le soir sur tout le visage deux ou trois fois par semaine, ou localement en cas de besoin, toujours avant la crème hydratante. Ne pas utiliser le matin sauf avec SPF 50. Acheté en format voyage 30ml au mois d'août, il m'en reste un tiers environ.

Au bout d'une semaine, les effets sont là et visibles : grain de peau unifié, moins voire plus aucune imperfection et une peau douce. Je rachèterai le full size sans hésiter.

More reviews Less reviews

Ingredients

What are the key ingredients?

Salicylic Acid/BHA
Primarily an exfoliant, helps to shed dead skin on the surface and inside the pore, therefore effective for reducing breakouts and blackheads. It also has soothing properties.

Green Tea Extract
Possesses potent antioxidant and skin-soothing properties and has impressive research in terms of its many benefits for skin, including anti-ageing properties.

Methylpropanediol
Can enhance the absorption of ingredients such as salicylic acid. It also has hydrating properties that can leave a smooth, dewy finish on skin.

Ingredients:
Aqua, Methylpropanediol (hydration), Butylene Glycol (hydration), Salicylic Acid (Beta Hydroxy Acid, exfoliant), Polysorbate 20 (stabilizer), Camellia Oleifera (Green Tea) Leaf Extract (skin calming/antioxidant), Sodium Hydroxide (pH balancer), Tetrasodium EDTA (stabilizer), Phenoxyethanol (preservative).

Faq

Good to know before you start using your exfoliant.

It is best to gradually build up use of a BHA product. Start by using your exfoliant once every other day and then increase usage to once or twice daily based on your skin's response. You need to experiment a bit to see what suits your skin best. During the day, always use a moisturiser with a broad-spectrum sunscreen rated SPF 30 or greater. Your skin will in fact be slightly more sensitive to sunlight when using an exfoliant, so the chance of sunburn and sun damage is slightly higher.

What's the difference between the 2% BHA Liquid and the 2% BHA Gel?

First, texture: One is a fluid with a toner-like consistency, the other is a thicker, clear gel. Both contain the same amount of salicylic acid, though the 2% BHA Liquid contains an ingredient that allows the salicylic acid to penetrate faster and further. With the 2% BHA Gel formula, you're getting a slower release of salicylic acid. Both are great options for treating acne, blackheads, and signs of ageing. Both are suitable for all skin types but best for normal to oily or combination skin.

The Skin Perfecting 2% BHA Liquid Exfoliant feels a bit sticky/greasy on my face. Why is that?

If the BHA is feeling sticky, you are probably using too much product. The average amount needed is the size of a small coin, and it's best to apply it in a thin layer. The 'greasy' feel can be attributed to the high levels of glycol in this product (glycol helps the BHA penetrate the surface layers of skin and also works as a water-binding agent). If you live in a humid, moist climate, this effect will be more pronounced and, if too much product is used, can create a 'greasy' feel on the skin.

At what point after my laser and/or peel procedure can I begin using my BHA exfoliant again?

First, we urge you to follow the post-procedure instructions your doctor or nurse provided. Otherwise, our general advice is to begin using your BHA again as soon as possible. Or, if your skin seems extra-sensitive, you may want to wait and apply the BHA exfoliant a few days post-procedure. Salicylic acid is an excellent anti-inflammatory ingredient that can enhance the skin's natural healing process as it works to reduce post-procedure redness.

Is there another Paula's Choice product which is similar to the Skin Perfecting 2% BHA Liquid Exfoliant?

Our Skin Perfecting 2% BHA Liquid Exfoliant has the same formula to our Clear Extra Strength Anti-Redness Solution Exfoliating 2% BHA.
Research
Journal of European Academy of Dermatology and Venerology, September 2016, issue 9, pages 1480-1490 General Physiology and Biophysics, September 2013, issue 3, pages 347-59 Archives of Dermatology, August 2000, issue 8, pages 989-994 Journal of Clinical, Cosmetic and Investigational Dermatology, 2015, volume 8, pages 455-461